In a sea of compact cameras, the Canon PowerShot SX200 IS and Panasonic Lumix DMC-TZ7 (also known as the ZS3) stand out a mile. While most compacts max out at 3x or 5x, these two have impressive 12x optical zoom.

The second reason is they're both true compacts, unlike most of the other "power zoom" or "super zooms" on the market (such as Canon's PowerShot SX1).
This killer combination of solid zoom in a tight, compact body makes both these cameras a cut-above the standard compact fare, and especially useful for travelers, or enthusiasts who want a "power" compact with a bit more control.
Out of the box: Panasonic's super-slim Lumix DMC-TZ7 is a sleek silver unit
Control where it counts: The Canon Powershot SX200 IS doesn't look as sleek as the Panasonic, but has the advantage of full manual control
We've spent the last few weeks testing the cameras for PC Authority, and are pleased to say both models impressed, though there's some key differences, as you'll soon discover.
All in all, there are several things that make these two models stand out - the size, zoom, lens, and exposure control.
Features
First let's rundown the basics: both cameras include 12x optical zoom, ISO 1600, and optical stabilisation. The Panasonic is a 10.1MP camera, while the Canon packs in 12.1MP. Both cameras have wide angle lenses - 28mm for the Canon and 25 mm for the Panasonic

The Panasonic rear display looks particularly stunning, with 460,000 dots verse 230,000 for the Canon, though both do an admirable job of displaying your images.
Design
As mentioned, both cameras are stunningly small for 12x zoom units. While both are easy to slip into a pocket (unlike a DLSR), the clear winner here is the Panasonic, which is noticeably slimmer than the Canon, and looks classier too, with a sleek silver design.
Closeup of Canon's SX200, showing the angled grip, and aperture/shutter priority control modes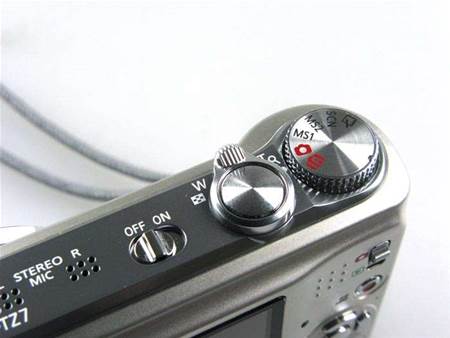 Panasonic's DMC-TZ7 is easy to control, and has a thinner body than the SX200. Auto and i.A modes are visible, and the stereo microphone.
Both cameras are comfortable to grip and control, thought special marks should be given to Canon, which has added an angle to the right-hand edge where your hand grips the device. We found we could hold the camera for long periods of shooting (during a wedding) without getting uncomfortable. In fact the size of the Canon may work in its favour, especially if you have large hands. The SX200 is compact, but we didn't find ourselves having to use fingertips to hold it, as we sometimes do with tiny compacts. The SX200 fits snugly in the hand.
Auto Exposure Control
Special note here must be made for the enhanced auto exposure modes. Canon tells us more and more compact users are shooting in full auto mode, and those auto modes are becoming more and more sophisticated.
As well as face detection, both the Canon and Panasonic employ a form of automatic scene detection, which analyses the frame and determines what special scene mode and settings are needed. In both cameras, this is a separate setting to the usual Auto mode.
Focus control
Standard metering and exposure controls you're familiar with are employed in both devices, with some key differences. The Canon offers Servo AF, which maintains constant focus adjustments while you track your subject. Panasonic employs AF Tracking.
Face detection is also becoming more sophisticated. Both cameras employ a form of face priority, where focus and exposure is prioritised for faces. The Canon even lets you choose which face has priority, while the Panasonic goes a step further, letting you register the names of friends and family. If those people appear in photos, the TZ7 will recognise them and prioritise their faces for exposure. Why you'd bother playing favourites like this, when other people are in the photo (who we assume you don't hold a grudge against), we're not sure. Still, it's probably more useful than blink detection (which we've found to be a bit hit and miss), and smile detection (which we think is rather Truman Show-like in its aim to make sure people in the photo are grinning).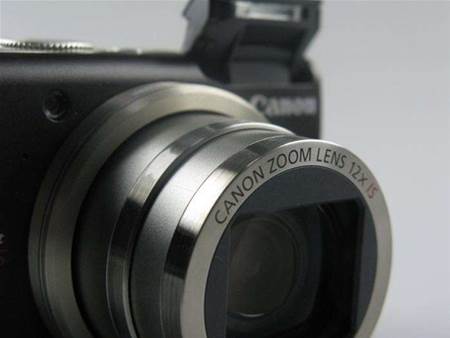 The Canon PowerShot SX200's 28mm to 336mm lens. The 12x zoom works a treat, though you'll need to be careful with shutter speeds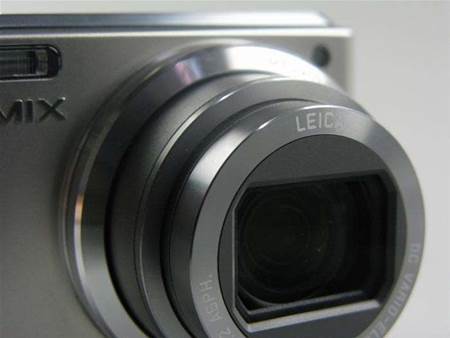 The Panasonic Lumix DMC-TZ7 boasts a 25mm-wide Leica DC-Vario Elmar lens, and 12x zoom
One of the only drawbacks we've found with full Auto mode (or the i.A mode on the Panasonic Lumix DMC-TZ7) is the lack of control options for the focus frame - as you'd rightly expect for an automatic mode. Still, despite the intention to make things easier for the shooter, we've often found it's the one thing we wish we could control in full Auto. For this reason, if people are in the scene, then face detection can become particularly handy to ensure no focusing mistakes when you're in Auto/i.A mode.
Macro
Both cameras were on par in daylight conditions, though when we pushed them under difficult lighting conditions (indoor shooting at night under multiple household light bulbs) the Canon showed vibrant colours, but a lack of detail compared with the Panasonic.
Manual Exposure Control
We tested both cameras in a wide range of shooting conditions. Picking apart the photos in a blind identification test would be difficult - the photos were on par. That said, there are key differences in the control you have over the final image.

While both compacts really shine in automatic exposure modes, the Canon stands out with full manual and exposure priority modes. As well as full manual, you get shutter and aperture priority.

Advanced shooters who will be taking some time constructing their shots will also appreciate the Canon. While both cameras let you do the usual half-press shutter focus-lock method, the Canon also offers the ability to manually lock-in focus and exposures separately - something we couldn't work out how to do on the Panasonic.
HD movies
The movie-recording ability of both these cameras is a cut-above what you'll see in sub $300 cameras. You won't be throwing out your camcorder - for one thing, the Panasonic has a 2GB limit on movie files - but you'll probably find yourself shooting more clips than previously. Both offer HDMI and HD (720) video, with Panasonic opting for AVCHD or Motion JPEG, vs MOV for the Canon.
Price
At $769 for the Panasonic Lumix DC-TZ7 and $649 for the Canon PowerShot SX200 IS, you'll be comparing these with enthusiast compacts like Canon's highly regarded G10 ($799). Compare this to the $329 RRP price of Canon's aging but well-regarded IXUS 80 IS, and you can see there's cheaper buys to be had.

Also keep in mind the range of bulkier DLSR-like super zoom cameras, like Canon's PowerShot SX10 IS, which has 20x zoom for $699 (though in a much bigger package).
We've been lucky to have hands-on review time with two of the most hotly-anticipated compacts cameras we've seen for some time. See our photos and first impressions of the Powershot SX200 IS and Lumix DMC-TZ7 (also known as ZS3)
Specs
$649
• Price: $649
• Camera type: Compact Digital Camera
• Megapixels: 12.1
• Sensor type: CCD
• Optical zoom: 12x
• LCD size: 3inches
• Shutter speed: 15 to 1/3200 sec
• ISO range: 80/1600
• RAW mode: No
• Weight: 220g
• Manufacturer: Canon
• Supplier: Canon