Thermaltake is no stranger to creating cases, and its V9 BlacX is the one Tt's betting the farm on for the rest of the year - packing it with its bestest features but keeping the price underneath $140. We saw it recently at Computex (www.atomicmpc.com.au/?218727), but it appears that the case has changed little since that early showing.
Front-on the V9 isn't too visually exciting, boasting a plastic baffle at both sides of the meshed fascia, behind which lies a single 140mm blue LED intake fan. While it is nice to see blue for a change, this was an odd choice considering the rest of the case is black and [i]red[/i]. The real excitement about this case rests up on top of this rather average area, where the 'BlacX' sit. These are Thermaltake marketing-speak for 'hot-swappable HDD caddy', and one or two hard drives can be thrown in at any time for easy data transferring. It's a practical way to share completely legally-obtained game trailers and other content when at LANs!
The caddies are powered by molex and SATA internally, meaning they're technically compatible with SATA3.0 - assuming you've got the internal ports free. It's also technically compatible with USB3.0, even going so far as offering a port on the I/O panel. Of course, to achieve this without a ratified USB3.0 internal header standard, Thermaltake has simply strung an extension cable through the middle of the case, exiting through one of the two watercooling grommets that no-one ever uses, where it ultimately plugs into the motherboard's rear I/O panel. And again, the cable is bright blue which looks as much like it belongs as a grizzly bear looks like it belongs in a day-care centre.
Internally the case improves somewhat, with lots of ventilation provided by the three included fans and numerous honeycomb grilles stamped into the sidepanels, though only the power supply has a dedicated dust filter. Everything is tooless for quick installation, using red clips that work with the black colour (not, you know, blue or anything), but there's no vibration dampening. The interior is painted a nice black, but the paint has a very noticeable texture to it and is annoyingly reflective up-close. It's also a gigantic fingerprint magnet, though this might not be an issue given enough time to build up a coating of finger grease.
Another problem we noticed was room for neat cabling - there isn't any. Spacing between the right-hand sidepanel and the motherboard tray is closer than this year's federal election, making it impossible to wedge even a 4-pin ATX power cable behind there, let alone SATA or molex.
As another plus the case is roomy enough for longer power supplies and can fit even the venerable 5970's massive bulk, but as yet another counterpoint, the V9 can't handle CPU heatsinks over a height of 165mm. Thankfully it should still handle tall coolers like the Noctua NH-U12P comfortably, though it's something to keep in mind.
It might not be such a good idea to fill the V9 with the heaviest hardware you can get your techy mitts on, however, as the stubby plastic feet the case precariously balances on offers neither firm grip nor excellent stability. Probably won't be a problem for most system builds, but it's definitely a thing to watch out for when thinking about where you'll sit the case - marble benchtops are a definite no-no.
In all the V9 does save you some cash if you're the type to ever hot-swap harddrives, and it does have plenty of airflow for the high-performance enthusiast - whether or not we can live with its flaws is a decision that's hard to make.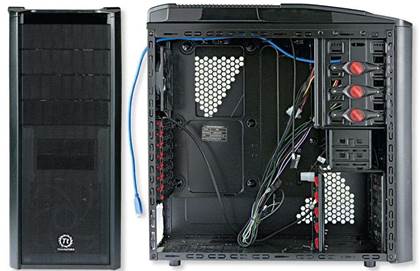 The new Thermaltake enclosure brings hot-swappable bays to the budget-range of case designs - we like!
Specs
$138
215 x 490 x 480mm (W x H x D); 1 x 140mm fan (front intake) 1 x 120mm fan (rear exhaust); 1 x 230mm fan (top exhaust) 3 x 5.25in drive bay (external); 2 x 3.5in drive bay (external); 5 x 3.5in drive bay (internal); ATX, M-ATX; Steel construction; 6.85kg