The Sony VAIO VGN-Z56GG/B is the latest update to a range that's currently under threat in the catwalk stakes from Dell's gorgeous Adamo. But anyone familiar with the Z Series will be glad to hear that, physically, Sony hasn't changed a thing.

It might not boast the wow-factor it once had, what with the seemingly never-ending slew of slimline competitors, but it's still impressive to behold. Measuring 33mm thick, the Sony is far from chunky, and while tipping the scales at 1.49kg isn't the party trick it used to be, it's still barely noticeable on your shoulder.

Design
With its hollow chassis and near-paper-thin display, the VGN-Z56GG/B feels skeletal, but it's tough enough to survive a life on the move. In a previous test of the original Z11, the chassis stood up to all the rigours of a regular commute without a moment's downtime - it's sturdier than it looks.

Keyboard
The VAIO walks the line between portability and toughness with impressive swagger. The Scrabble-tile keyboard design, for example, means the top of the base can be milled from a single, rigid piece of aluminium - a clever design touch in itself - but it also makes for a keyboard that's a pleasure to type upon, with responsive, long-travel keys and a spacious, roomy layout.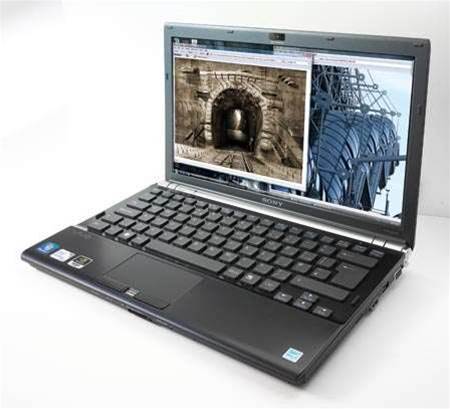 Sony has kept faith with the popular Z Series' blend of power, portability and good looks
Specifications
Where would-be rivals resort to low-voltage processors and do away with integrated optical drives, the Z Series is the sensible old codger of the bunch. It happily conceals an optical drive - or a Blu-ray drive, should you choose to spend a little more - and the 2.8GHz Core 2 Duo P9700 processor makes no concessions in the power stakes.
Performance
Indeed, you'd be forgiven for expecting a 1.5kg ultraportable to lag a little, but that full-power processor really hammers along when the occasion demands it, and with 6GB of DDR3 memory and a 64-bit copy of Windows 7 Professional installed, the VGN-Z56GG/B proved its mettle with a score of 1.43 in our benchmarks. Compare that to its slower CULV rivals and there's only one winner.
It's also testament to the VAIO's sheer brilliance that such power goes hand in hand with unparalleled stamina. The first trick up its sleeve comes in the form of a switch above the keyboard to change between Stamina and Speed modes. In the latter, the Nvidia GeForce 9300M GS graphics are active, and the Sony managed a fair 26fps in Crysis at 1024 x 768 and low settings.
Battery Life
But flip that switch back to Stamina mode and the discrete graphics chip powers down, handing duties over to the integrated Intel GMA X4500MHD chip. In tandem with Windows 7's Power Saver mode, with the optical drive powered down via Sony's proprietary power management software, the Sony clung on for an astounding 10hrs 1min of light use. It's a startling achievement, and in stark contrast to the 1hr 33mins of life when all those beefy components blaze away at full pelt and the screen is at maximum brightness.
Screen
Unless you're using the VGN-Z56GG/B outside in mid-summer, you're unlikely to need that brightest setting. The panel might be just 13.1in across, but it's among the best we've seen. The spacious 1600 x 900 pixel resolution offers outstanding brightness and superbly accurate colour reproduction, and the only slight let-down is a little backlight leakage along its top edge.
Try as we might, there's little to criticise the Z Series for. The addition of a fingerprint reader adds a welcome element of security, and even the presence of Windows 7 helps amplify the VAIO's charms. Swapping between the two graphics chipsets, for example, is almost instantaneous and the overall experience is just that bit slicker.
Conclusion
The VGN-Z56GG/B outstrips the best of the netbook and ultraportable worlds for longevity, but can also switch gears and assume desktop duties with its reserves of power. With Intel's mobile Core i7 looming large, it might not be long before an even more flexible successor arrives. But right now, if your budget can stretch to it, the Z Series remains as good a laptop as we've had the pleasure of using.
Light yet powerful, gorgeous yet practical, the Sony VAIO VGN-Z56GG/B is the best all-round ultraportable Sony has produced to date
Specs
$3195
• Price: 3195
• CPU model/brand: Intel Core 2 Duo P9700
• CPU speed: 2.8GHz
• Memory capacity: 6GB
• Hard drive capacity: 320GB
• Graphics type: Integrated
• Graphics: Intel GMA x4500MHD
• Screen size: 13.1in
• Screen resolution: 1600x900
• Weight: 1.49Kg
• Manufacturer: Sony
• Supplier: Sony