It still argues that the P Series, despite its Atom processor and microscopic dimensions, was nothing of the sort. It certainly wasn't priced as such, with even the cheapest version selling for more than $1200, whereas the W Series is appearing at retail for $999.

This mini-laptop follows more of the rules of netbook making. Its Intel Atom processor has 1GB of RAM for company, Windows XP Home is the operating system of choice, and the Mini W looks more like a conventional netbook than the P Series did.

Screen
But, Sony being Sony, it couldn't possibly follow the formula to the letter. Chief among the differences is the screen, which packs 1366 x 768 pixels into its 10.1in diagonal, and with LED-backlighting, too. The high resolution means that text looks smaller than with other netbooks, but in return Word documents, spreadsheets and web browsing benefit from much more space.

Few will complain about the screen's quality, either. That LED-backlight makes for an impressively bright display and, although it isn't as vibrant as the best Sony displays, colours are accurate and there's no odd caste or grain to spoil white backgrounds.
We're fans of the styling, although of the three colours Sony offers - brown, white and pink - we feel brown looks best. Some in the PC Authority office were less taken with the cross-hatched finish on the touchpad, but on the positive side it's responsive and of a good size.

Keyboard
Which leads us to the most contentious point of this netbook: the keyboard. There's absolutely no disputing its style. It looks great and lends the W Series the air of a far more costly machine. If you plan to type a lot on it, however, think very carefully before parting with your cash.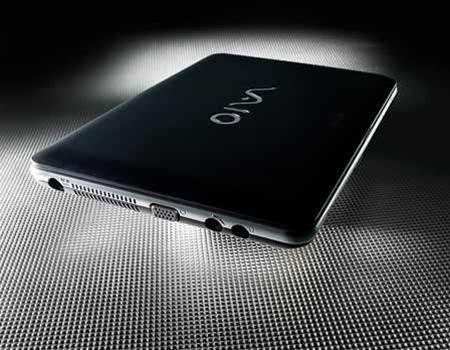 Sony's Vaio Mini W: an excellent screen and light at 1.19kg, though far from the cheapest netbook
First, the keys have very little travel. It makes typing an odd experience; we never felt totally happy using it. Our experience wasn't helped by some odd key placement. Worst of all is the right Shift key, which is just too thin, but the spacebar is also smaller than we'd like. These sacrifices wouldn't be necessary if Sony had used the full width of the chassis, but it's plumped for precisely the same keyboard as the P Series.
We also found one other irritation in daily use: the fan. Even if we were typing away in Word, its low monotone hum kept us company. It's fine in an office, but if you're sitting in a quiet room at night you might find it annoying.
Performance
You do at least get one of Intel's faster Atom processors as compensation. The N280 is a single-core chip but it runs at 1.66GHz, and that proved enough to push the W Series to 0.43 in our benchmarks, one of the fastest scores we've seen from a netbook.
The only time the Sony stuttered was when playing back a programme in iPlayer. That's possibly a reflection on the app, because when we tested the VAIO with 720p video in the less-demanding WMV format, it played back smoothly.
Battery Life
Battery life proved run of the mill. Sony includes only a three-cell battery as standard, and this lasted for 4hrs 19mins in our light-use tests - around half the time most premium netbooks can manage these days.
A six-cell extended-life battery will soon be available (no word on the price, though), which should double life to a maximum of eight hours. The benefit of the three-cell unit is that it keeps this netbook streamlined, and although models such as the
Asus Eee PC 1008HA
make it look a little porky at 32mm thick, you can still sling the W Series into a bag without worrying about its size. It's light, too, at 1.19kg.
But the question still remains: when you can buy the winner of last month's netbooks Labs,
Samsung's N110
, for $250 less, is the Mini W Series worth the premium? We certainly can't argue with the specifications: you get every luxury going, including Bluetooth, draft-n wireless and two memory card slots. The software package is good too.
Conclusion
If the Sony's keyboard and battery life had been better, it would certainly have been vying for an award. To include such an excellent screen at this price is impressive when you consider it's Sony's first true netbook; it may have been late to the party, but now it's arrived Sony wants to be the star attraction.
But in terms of usability and value, the Samsung N110 beats it, despite its lesser screen. Its great keyboard and 11-hour battery life are difficult to argue with, especially when the W Series costs such a significant amount more.
So, the last big name has fallen. HP gave out in April 2008, and both Dell and Toshiba's resistance crumbled by the autumn. But it's taken Sony until the middle of 2009 to produce what it confesses to be a netbook, the VAIO Mini W Series.
Specs
$999
• Price: 999
• CPU model/brand: Intel Atom N280
• CPU speed: 1.66GHz
• Memory capacity: 1GB
• Hard drive capacity: 160GB
• Internal optical drive: No
• Graphics type: Integrated
• Graphics: Intel GMA 950
• Screen size: 10.1in
• Screen resolution: 1366x768
• Weight: 1.19kg
• Wi-Fi: Yes
• Manufacturer: Sony
• Supplier: Sony