A run-of-the-mill budget case from Silverstone? Yeah, we're as baffled by the PS05 as you guys.
If we drove down a busy street, leant out the window and bellowed "SilverStone!" at the nearest passer-by, odds are they wouldn't know what we were on about. Then they'd run. And probably wail in terror.
If we said the same thing to a computer enthusiast they'd almost immediately identify the company as a case manufacturer well-known for itis high quality and expensive cases - which makes the PS05 such a strange product, as it is neither of those things. In terms of price the PS05 commands a paltry $70, fitting amongst the cheaper members of its competition.
Visually the PS05 isn't breathtaking, consisting mainly of a steel construction predominantly featuring very thin gauge material. The fascia is constructed entirely from plastic, offering a decent amount of bays and a meshed bottom though no active intake, merely a mount for one. There are plastic flares to the sides of the case that twist and look quite interesting, though the plastic seems to have a mottled patchy colour to it - as if it hadn't really set properly from the factory.
The top of the case features two USB ports and mic/audio jacks alongside power and reset buttons - two of the mushiest buttons that we've ever mushed. These feel as solid as watered-down jelly left in the sun on a hot summer day, and make an awfully distracting 'clunk' when pressed.
Both the sidepanels are bereft of any window, ventilation or interest, though each is coated in a smooth black paint. Unfortunately this paint picks up more fingerprints than a kleptomaniac at a garage sale, and quickly becomes quite coated. The panels are also quite thin and their fit with the main chassis is poor, though they are functional and secured with thumbscrews.
Behind the case it's a similar story, where the black paint is impressively smooth but the metal is simply annoyingly thin. There are seven expansion slots with minimal ventilation and metal cutouts for watercooling tubes, but in a case such as this it's a far cry to expect any user to spend that much.
Internally the PS05 redeems much of its external failings, and its layout is very uncluttered. The PSU mounts at the bottom with appropriate filtration, with cutouts in the motherboard tray enough for small power cables - though not enough for either the 8- or 24-pin ATX cables. Hard drives mount on tooless rails, with other 3.5in drives mounting with clips into the two external bays. The clips feel rather cheap, though should do the job.
One of our biggest gripes with the PS05 stems from the cooling, with only a single 120mm exhaust fan included at the rear of the case. While there are other 120mm mounts at the front, bottom, and two at the top, none of these are filled. Thankfully they all seem to be filtered in preparation for fans, so should keep things clean.
The case also can't handle aftermarket heatsinks over a height of 160mm - meaning that the Thermalright Ultra 120 Extreme isn't going to fit. Other heatsinks of a similar height won't fit either, but for a budget case this isn't completely unexpected; though it pays to keep it in mind.
Our biggest fear is that this transition to high-volume low-price cases will send SilverStone on a downwards spiral towards BudgetVille (population: 1,000,000 and counting). The PS05 doesn't fail to do anything essential in a budget case - but there is a lot that it simply can't do at this price range.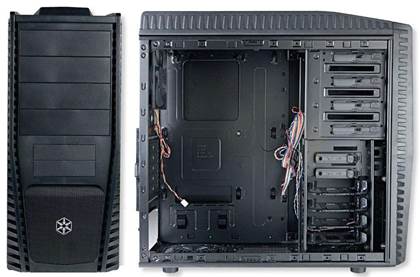 The wheel is not remade, but it's not exactly terrible.
Specs
$68
190 x 466 x 485mm (W x H x D); 1 x 120mm fan (rear exhaust); 4 x 5.25in drive bay (external); 2 x 3.5in drive bay (external); 4 x 3.5in drive bay (internal); ATX, M-ATX; Steel construction; 6.2kg