A totally custom-built 5-series card from Sapphire, which packs a serious punch as it handles our benchmarks.
In what remains a far cry from the heat of NVIDIA's GF100-based cards, ATI's RV870 cards are comparatively cooler than a frozen penguin. While this isn't the fullsized RV870 core (that would otherwise boast 1600 shader units), the 5850 Toxic boasts a pretty high total of 1440 units running at an increased factory overclock from reference clocks (725/1000) that bring it 40MHz higher to 765MHz on the core and 25MHz higher to 1125MHz for the memory. There's still 1GB of GDDR5 used on a 256-bit memory bus, but the heightened clockspeeds make up for some of the difference between this card and the faster 5870 cards.
Not only have the clocks been tweaked slightly from reference, but the entire PCB has undergone a total reworking. Sapphire's engineers have added an extra inch or so to the length of the card, making it almost as long as a 5870 - though while it's not quite there, the PCIe power connectors extend it much further. This means that the Toxic isn't going to be quite as well-behaved in smaller cases that would otherwise fit the 5870, due to its vertical power connectors, and is something to keep in mind. The lengthening of the PCB is justified with the addition of plenty of power-providing components, as well as smarter spacing between heat-generating areas.
The redesign has also made way for Sapphire's Vapor-X heatsink, an aftermarket custom design that actually looks pretty badass. Completely removed from the reference black-and-red matte plastic design, the external shroud mixes glossy black-and-blue plastic with a large centrally mounted intake fan and a blue PCB. While this also means that it doesn't exhaust entirely out the rear of the chassis (and instead most of the heat enters the case), it shouldn't be much of a problem with decent airflow. The larger fan also generates much less noise compared to the reference 5850 cooler; the 52dBA at idle is similar, but a load noise of 57.1dBA is markedly quieter. Temperatures sit at 35 while idling, though they're not as great as we'd hoped at a load of 60.
The Toxic also supports three digital outputs from a total of four connectors, boasting DisplayPort, HDMI and two DVI plugs alongside the usual teensy exhaust vent. Crossfire is possible via the two nipples at the top of the card, and the Toxic plays nice with any card from the 58xx series.
Overclocking was a relatively interesting affair, with the card powering through our tests at a heightened rate of 900MHz on the core. This represents an additional 18 per cent overclock, and if it were clocked at reference speeds it'd be 24! Unfortunately, while the core did quite well we didn't see any movement on the memory side at all, and it seemed to not like being prodded or poked into action.
Performance is pretty great for a 5850, coming in noticeably higher than the reference 5850 in all tests and only slightly behind the 5870. The difference between these cards is slight, but the Toxic draws a middle ground that gives more than playable frames. We noticed a few moments during GRID where the game hitched momentarily as the game loaded data into the card's memory, though this was more or less ignorable compared to other cards.
The 5850 is a great choice for any gaming system, and the Toxic proves again that you can take an existing design and make it even better. It's quiet, speedy and colourful and really, that's all a fast card needs to be.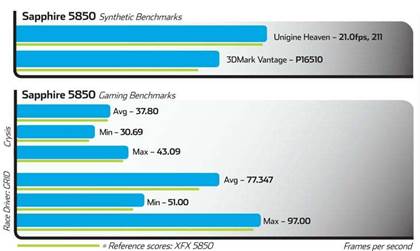 Sapphire's Toxic blue us away.
Specs
$430
765MHz core; 1125MHz memory (4500 effective); RV870 core; 1440 shader units; 1024MB GDDR5; 256-bit memory interface; dual slot PCB with active cooling; dual 6-pin PCIe power connector