The 5870s little cousin is a pleasant surprise.
Most times when you save up a bunch of cash to upgrade your rig you'll aim for the highest peak on the performance chart - but you can't always get there. This is where the 5850 slots in, presenting itself at a price $170 cheaper than the next step up (the 5870) but also $130 more expensive than the one below it (the 5770). It's all a big trade-off between price, performance and value for money, one that the 5850 makes a decent crack at mastering.
Based around the 40nm RV870 core, the 5850 sports 1440 shader units clocked at 725MHz. This is exactly double the complement that a 5750 will carry, but less than the 1600 of a 5870. Also making an appearance here is 1GB of speedy GDDR5 memory on a 256-bit memory bus, providing plenty of bandwidth and capacity for the most demanding of applications now and in the future. Also of note is the transistor count; running well over a billion individual pieces, each precisely manufactured to an exacting tolerance.
What this adds up to is performance that is slightly below the 5870, though not as much as expected. 3DMark06 has a negligible thousand point gap, but this just highlights the fact that the GPUs are mostly CPU bottlenecked - even with Nehalem at stock, bandwidth just isn't high enough to keep them working at their prime. A ten fps difference in Crysis frames and a practically identical GRID result mean that unless you're planning to game on a 30in screen with the highest AA levels you could probably get away with a 5850.
Physically you might be better off to consider a 5850, seeing as the TDP is 27W lower at load than the higher model, meaning a slightly less beefy PSU is needed as well as less heat generated. There's not much visually unique between the two cards either; being a similar length, with a similarly styled outer shroud and boasting the same DisplayPort, HDMI and dual DVI outputs. Twin CrossFire nipples at the top of the card are matched by dual 6-pin PCIe power connectors, and there's very little to tell the two apart (aside from the giant sticker, of course). Inside the shroud the copper base meets with aluminium fins much like any other heatsink, and the large squirrel cage fan at the end of the card pulls in a voluminous amount of cool air, exhausting it out the rear of the case.
As described in the giant look into DX11 within this very issue, this card is one of the few on the market that actually supports the new API fully. Tessellation and many other features can be done via hardware, but perhaps the most exciting thing about this card is that it comes with an activation key for DiRT 2 bundled in the box. The game itself needs to be downloaded from Steam, but considering it only released in early December it is a welcome inclusion.
Temperatures are another area where this card is appealing over the higher model, idling at 42 degrees and 50.3dBA but only reaching a high of 60 degrees and 61.7dBA - slightly noisier at load, but cooler by 11 degrees compared to the GIGABYTE 5870 on page 38. It also managed to overclock an impressive 19 per cent on the core, reaching a clockspeed of 862MHz. Memory speeds improved massively, hitting a 30 per cent increase of 1300MHz. For a great tradeoff between best value and high performance the 5850 is an excellent choice that will see you getting good performance, without spending too much.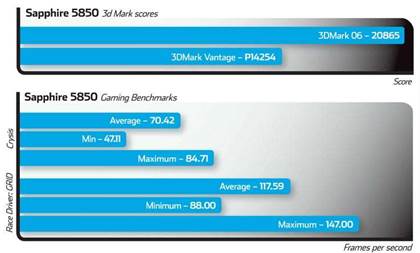 Good performance, value and bundle.
Specs
$380
725MHz core; 1000MHz memory (4000 effective); RV870 core; 1440 shader units; 1024MB GDDR5; 256-bit memory interface; dual slot PCB with active cooling; dual 6-pin PCIe power connector.