Samsung's NC-20 gives every appearance of an exceptionally well-balanced netbook. Good looks, a fine screen and a comfy keyboard is a template for success that Samsung has employed for this rather svelte 1.51kg netbook.

In fact, it takes netbook design further towards true laptop territory. First, there's its larger 12.1in display, with a 1280 x 800 resolution. It still doesn't make for a particularly spacious Windows desktop, but for the everyday tasks required of a netbook - and with a netbook price attached - it's a perfect fit. The reflectivity of the glossy finish might divide opinion, but image quality is superb and brightness, contrast and colour are impressive considering the panel's budget origins.

Keyboard
Second, there's the NC20's keyboard. The keyboard is near full-size, and wider than most netbooks and the keys are a tiny bit bigger as a result. The extra width makes all the difference while typing, and although there's a little less travel to every key than we'd like, there's still a positive action and a pleasant overall feel. It isn't perfect, with an oddly positioned Windows key and wasted space flanking the keyboard.
The enlarged trackpad is a welcome sight, however, and its wider frame and larger buttons make for more comfortable cursor control.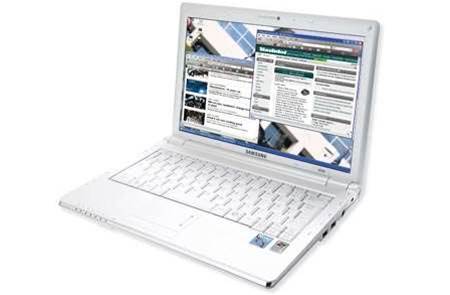 The Samsung NC20: The 12.1inch screen size beats many netbooks, and the combination of Windows XP, 6 hour battery life , and a 6-cell battery for under $800 make this machine hard to resist
Design
The chassis has thick white plastic hinges, which means build quality is significantly sturdier than you might expect at this price. Aesthetically, though, the NC20 suffers from the same problem that beset the Mini 12. While the design might look rather cute when applied to a smaller chassis, it isn't as charming when it's stretched to house a 12.1in screen.
Performance
In one regard, the NC20 dares to be dangerously different. Indeed, where virtually every other netbook uses Intel's Atom processor, Samsung has employed VIA's Nano U2250 - a single-core processor with a 1.33GHz clock speed. There's no HyperThreading, but performance is better than VIA's previous architectures. It's partly due to features such as dynamic overclocking, which ups the processor speed when the CPU core is running cool - during our testing the U2250 spent most of its time skipping along at 1.5GHz.
Graphics
The Nano also comes with Chrome 9 HC3 graphics. Despite running at 1280 x 800 rather than the more usual netbook resolution of 1024 x 600 - and consequently having to push 60% more pixels - the VIA kept pace with Atom-based systems, managing smooth full-screen video playback from iPlayer and YouTube with only the odd hiccup.
OS
Unlike Dell's unwise decision to partner the Mini 12 with Vista, Samsung has stuck with the tried-and-tested netbook OS of choice: Windows XP Home. Coupled with the Nano processor and just 1GB of memory, XP feels surprisingly nippy and responsive. Our benchmarks largely agreed too, with the NC20 scoring 0.40.
Battery Life
Thanks to the choice of a capacious six-cell battery, the NC20 lasted for an impressive 6hrs 46mins in our light-use test, and nearly four hours under heavy usage - way ahead of Dell's Mini 12.

Specs
Elsewhere, the specification is solid, if not outstanding: a 160GB hard disk, 802.11bg wireless and Bluetooth. The NC20's speakers perform well with plenty of volume and good clarity, but there's still no bass to speak of and they lack the warmth of Asus' Eee PC 1000 series.

Conclusion
So will the NC20 repeat the success of its little sibling? With only Dell's disappointing Inspiron Mini 12 so far released, Samsung doesn't have a great deal of competition at this size. Indeed, factor in the $799 price and its more serious rivals may be budget laptops.

Whichever way you cut it, the NC20 blurs the line between ultraportable and netbook with impressive aplomb. The higher screen resolution is a significant step up and this, coupled with good performance and great battery life, makes the NC20 an ideal travelling companion. A netbook success for Samsung's first entry.
With only Dell's disappointing Inspiron Mini 12 so far released, Samsung doesn't have a great deal of competition at this size. The NC20 has six-hour battery life, fine performance and a superb display
Specs
$792
• Price: 792
• CPU model/brand: VIA Nano U2250
• CPU speed: 1.3GHz
• Memory capacity: 1GB
• Hard drive capacity: 160GB
• Internal optical drive: No
• Graphics: Chrome 9 HC3
• Screen size: 12.1in
• Weight: 1.51kg
• Operating system: Windows XP Home
• Manufacturer: Samsung
• Supplier: Samsung