Once again, we're blown away by what a vast improvement the GTX 460 is to the Fermi range. This time we're falling in love with an MSI card...
NVIDIA has finally got it right with Fermi. The company's struggled a lot along the way, fumbling cards and cores that didn't really offer an enticing package - but the new Fermi core is another matter. Though it shares the same 'Fermi' codename, it's a new monster entirely. Specifically, this card runs a version of Fermi labelled GF104 which indicates a reduced die size of 367mm2 (down from 529mm2), a similar drop in transistor count to 1.95 billion (from three billion) and a fall in processing cores to 336 (from a possible 480).
In some ways the GF104 is half of a GF100, and though it quite literally has half of the Streaming Multiprocessor count (physical allotments of processors, marshalled into groups), the SMs in the GF104 contain more processors than the original GF100 - packing 48 per SM compared to 32. Though one of the SMs is non-functional, for a total of seven, this gives 336 processors in total: not the 224 that would come with a simple halving of a core.
The processors all run at a slightly boosted factory speed of 726MHz (+51MHz), with a 256-bit memory bus enabling access to 1024MB of speedy GDDR5 chips that run at reference clocks. It's also capable of doing all the PhysX acceleration and GPGPU work you can throw at it.
Visually the Cyclone is an interesting take on what would otherwise be a boring reference design, planting a large aluminium and copper plate against the GF104 core, impregnated by two heatpipes that distribute the thermal energy to two external 'wings'. In the centre of this circular array of metal lies the fan that gives embodiment to the name Cyclone; though it remains quiet at idle with 49.8dBa and only slightly cyclonic at load with 61.8dBA.
What we were most surprised about were the temperatures - idle sat at a chilly 29 degrees, while load in Crysis only topped out at 50! This is even more impressive considering the 160W TDP rating for the card, and essentially means that the card will remain cool in practically any situation one could dream up. Except perhaps an oven.
The small factory overclock also gave a noticeable benefit to our benchmarks, returning nice scores in benchmarks that were higher across the board compared to the GIGABYTE GTX460 from last Issue. However, MSI's Cyclone trumps that card in temperatures and performance, generating a little extra noise as a trade-off.
Unfortunately there's nothing bundled with the Cyclone to make it a little more appealing, but it's still a fantastic card for the price. There's even quite the argument towards running two of these cards in SLI rather than a single GTX480 - but that's an argument for another day. In the meantime, you'll be doing yourself a favour to nab one of these puppies.
Dance party!
Overclocking the Cyclone went well... too well. We flung open Kombustor and overclocked the core to 870MHz, representing a 20 per cent clockspeed increase. It was stable at first, but when we tried to run Vantage, sparkly lights and funky colours appeared throughout the benchmark. We watched in a trance for a time, then dropped the clocks to a more reasonable 836MHz - completing Vantage with a score of P18690. Somehow, we're not sure it was a total improvement...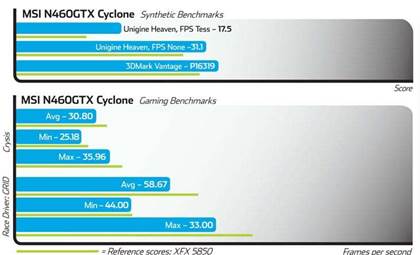 A GTX460 that just makes sense.
Specs
$300
726MHz core; 900MHz memory (3800MHz effective); 1451MHz shader; GF104 'Fermi' core; 336 CUDA Cores; 1024MB GDDR5; 256-bit memory interface; dual slot PCB with active cooling; dual 6-pin power connector