AMD's answer to X58 both surprises, and amazes - if you're an AMD fan then MSI's latest board is your next must-have upgrade.
Picture this: you've saved up money, waiting to buy your shiny new X58/Core i7 rig, but suddenly you either lose all your patience or can't set aside any more money for it. You've only got enough for the processor (you'd been eyeing off that i7 870), but sadly, no motherboard is cheap enough to fit in the budget. You're also after Crossfire, and a zippy processor, so where do you turn? To the 890FX chipset, naturally.
It's a chipset manufactured on the same 65nm process as the 790FX chipset; drilling down to the core of it, even the 42 PCIe lanes, Hypertransport bus and support for AM3 sockets are the same. So what's different? Nothing, actually, and the two chipsets are functionally identical. Where the difference appears is with the Southbridge - it's been updated to the SB850 chip, a 55nm addition that boasts six SATA3 ports and 14 USB2 ports.
MSI has augmented the board's I/O options with the now-standard dual USB3 ports, and storage options are further expanded with the addition of a SATA2 controller onboard, powering an additional internal and one external port. For those who look for it, there are two Gigabit Ethernet ports, and thankfully there's a Clear CMOS button too.
Since this board was intended as a Crossfire board, it boasts five physical PCIe slots. What isn't clear is the configuration of those slots: in single or dual card setups, the cards receive the full 16x bandwidth, but with triple or quad card setups they receive 8x each. The fifth slot, assuming a single-slot card is used in it at the same time, will only run at 4x. All these PCIe lanes are 2.0, so they've twice the bandwidth of 1.1, but it's still something to be mindful of - and unlike the X58 chipset, there is no possible SLI support.
The bottom of the board features the nifty overclocking-friendly features that MSI has been using on their latest boards, consisting of touch-sensitive square panels that perform functions with a simple press of a finger. There's a panel for power and reset, as well as an OC Dial unlocking button that allows the physical dial to control the Hypertransport bus in realtime. However this is possibly pointless at worst, and merely amusing at best - especially compared to the BIOS.
The BIOS is actually pretty good, with most settings clearly labelled and organised neatly, though voltages and latencies still mostly lack the ability to key in specific values with the keyboard. For some unknown reason the board ran the X6 at stock with a high amount of voltage, causing Cinebench Multi to crash unless we set the voltage manually. That was the only black mark however, and we could push the board a further distance to 268x16, resulting in a 4288MHz overclock at a voltage of 1.475V. This resulted in a Cinebench score of 24729, a very nice improvement.
The 890FX and SB850 chipset combo is definitely the only one we'd recommend for those looking to Crossfire, and as an enthusiast board, this is one to consider.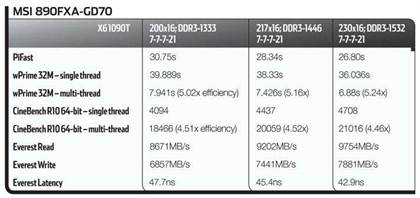 One of the better AMD boards we've looked at.
Specs
$265
Socket AM3; AMD 890FX chipset; ATX form factor; 5x PCIe x16; 1x PCIe x1; 1x PCI; 6x SATA3, 1x SATA2; 2xUSB3; DDR3-2000