This month in Labs we saw our first fully-fledged system with USB 3.0 built in - the TI i7 system. At the same time, we also received 3 USB 3.0 gadgets to evaluate.

They offer three possible ways to approach connecting your system to a USB 3.0 external drive, whether you prefer to buy an enclosure, upgrade your current system or just plug-in-and-go.
---
Western Digital WD MyBook 3.0

Price: $280
The Western Digital WD MyBook 3.0 offers the most complete solution for someone wanting the speed of USB 3.0. Not only does it come with a 1TB USB 3.0 drive and cable, but there's a PCIe add-on card so that you can upgrade your existing system.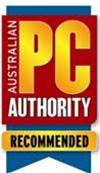 We tested the drive on the TI Power i7, and recorded maximum speeds of 125.4Mbytes/sec when reading 15.9GB of audio files in a music library from the external drive, and 83.1Mbytes/sec when writing audio files to the external drive.

Switching the drive onto a USB 2.0 port showed the difference in speed clearly: for both read and write speeds, USB 3.0 is around 3 times faster than USB 2.0, even on a USB 3.0 drive.

We tried it on an older Dell XPS 420 system, too, using the included PCI add-on card and it worked well, with speeds up to 80Mbytes/sec write speed and 120Mbyte/sec read speeds.

The best part of the WD drive is that you can buy it with a USB 3.0 add-on card for $280, or without for $250. Either one works out to be a decent price for a 1TB drive with superfast transfer speed.
---
Buffalo USB 3.0 external drive

Price: TBC

Rating: 4/6


The Buffalo USB 3.0 external drive we received had backup software supplied in Japanese - it's an early model, and not the final Australian retail version. Fortunately, one of the team speaks a little Japanese, so we muddled our way through, but the backup software wasn't our primary interest here: the speeds were.

In testing, the Buffalo proved slightly faster than the WD for write speeds for standard files and for a 15.9GB music library, but a little slower for HD video. Its read speeds were universally slower than the WD, however (see the table, below).

It may well be that there are further optimisations that can be achieved with the drivers, and we'd hesitate to say that this would be the performance of the final Australian retail version, but it's a good guideline as to what type of files it handles best. Additionally, it shows that there's variance between brands for USB 3.0 controllers and drivers, and that can make a performance difference.


---
Dotop USB 3.0 Enclosure

Price: TBC
Rating: 4/6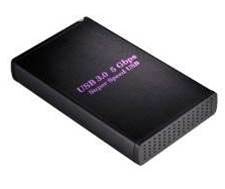 Our final product, the Dotop USB 3.0 Enclosure, is intended to house a 2.5in drive of your choice, and is a simple way to take existing storage and give it a quick-fix pace upgrade.

The design is minimalist, but adding a drive is a simple matter of slipping off the front of the unit and slotting one in. We can't report on its performance, per se, since it will depend on the drive you install.

It's worth noting that we tested all the drives we looked at on a USB 3.0 enabled Gigabyte H55-based motherboard. For X58 boards, there are so many PCIe lanes that you can hook up SATA3, USB 3 and graphics cards without problems, but that's not the case for H55 and P55.

Gigabyte and Asus have taken different positions on how to implement USB 3.0 on H55 and P55 motherboards.

Gigabyte's hybrid approach takes the controller for SATA 3 and USB 3.0 and hooks it up to PCIe. As a result, there are limitations on how many devices you can run - you can run two USB 3.0 devices or two SATA 3 drives at full speed, or you can run two graphics cards at full bandwidth, but you can't run any of those combinations side-by-side without losing bandwidth and performance.

The Asus implementation uses a bridge chip that almost doubles the bandwidth to PCIe, allowing you to connect more devices without performance drop-off, but it's expensive, and right now, there aren't enough USB 3.0 devices to justify spending that extra money on it.

Until devices are more common, you're likely to only use one USB 3.0 port at a time, and shouldn't run into bandwidth issues.
USB 3.0 drives and enclosures are starting to appear in our labs, but how do they compare, and is it worth upgrading?