Intel's 32nm Core i3 and Core i5 CPUs are a persuasive reason to make the leap to the LGA 1156 platform; but to take advantage of these chips' onboard graphics, you'll need a motherboard based on the H55 chipset.

It's no surprise that the major manufacturers are already producing mid-priced boards in the convenient microATX form factor.

---
Asus P7H55-M Pro

Price: $132

Rating: 4/6



The Asus P7H55-M Pro is a typical offering. Its four DDR3 slots will take up to 16GB of RAM, and with six SATA connectors plus one PATA port it will accommodate plenty of drives - although there's no RAID support, and (this being 2010) no floppy controller either.

Expansion options comprise a single PCI Express x16 slot, one PCI Express x1 and two PCI slots, and on the backplate there are six USB sockets (with headers for six more), Gigabit Ethernet, a single PS/2 connector and 7.1 audio. Intel's on-chip GPU is served by VGA, DVI and HDMI ports.

The board has a few top-shelf features: DIMMs can be overclocked up to a crazy 2133MHz, and an eight-pin CPU power connector will reassure anyone looking to tax their processor. It supports Asus' fast-booting "ExpressGate" internet environment too, should that be of interest.

Power consumption in Windows is low, with our test system idling at 43W and hitting only 90W under peak load. In all the Asus is perfectly suitable for an everyday home or business PC, but it isn't the most generously-specified choice.
---
Gigabyte GA-H55M-UD2H

Price: $131

Rating: 6/6




That honour goes to the Gigabyte GA-H55M-UD2H, which one-ups the Asus in several areas. It complements two PCI slots with a pair of full-sized PCI Express x16 slots and support for ATI CrossFireX - although the second slot offers only four PCI Express 2 lanes.

It's versatile for onboard graphics too, as Gigabyte provides a DisplayPort socket as well as the standard three connectors. FireWire and eSATA add further storage options, although you get only five SATA ports, and still no RAID controller.

In our tests, the Gigabyte's power consumption proved slightly higher than the Asus', at 46W
idle and 94W peak. But since it costs the same and offers more features, it's still clearly the one to go for.

---
MSI H55M-ED55

Price: $TBA

Rating: 5/6



The MSI H55M-ED55 is likely to be more expensive than the Asus and Gigabyte offerings, reflecting a more aspirational design that includes two full PCI Express x16 slots and an onboard power button.

The real attractions are the plus and minus buttons that let you tweak the base clock while the system is running, along with an "OC Genie" button that automatically tunes your processor to its highest stable frequency.

Since Core i3 models don't support Turbo Boost, it's a clever way to get the best bang per buck; but overclocking inevitably raises power consumption (at stock speeds our test system drew 44W idle, 88W peak), and we found it caused the on-chip GPU to become unstable, necessitating the use of a discrete graphics card.

The H55M-ED55 lacks a few luxuries such as DisplayPort and FireWire, but for the more ambitious home system it's a credible choice.


---

Foxconn H55MX-S

Price: $101

Rating: 5/6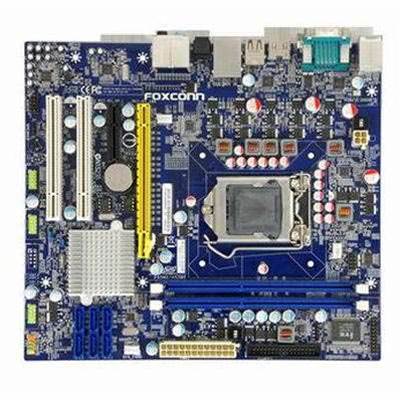 Finally comes the Foxconn H55MX-S, which takes the opposite tack by focusing on value rather than features. Specifically, the board provides just two DIMM sockets, giving you a maximum RAM capacity of 8GB, and lacks a PATA controller.

These omissions aside, however, you get just as many backplate ports and connectors as the Asus, coupled with the lowest idle power drain of the group at 38W (rising to 89W under full load).

So if you don't have any legacy drives, and don't anticipate major RAM upgrades in the future, there's no reason not to jump at the H55MX-S - and perhaps put the money you've saved towards a more powerful CPU.
Intel's H55 chipset supports integrated graphics on Core i3 and i5 CPUs.
We test four boards that take advantage