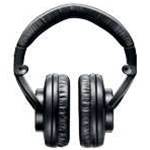 Shure SRH840
Price: $265
Rating: 5/6
These are comfortable studio headphones with closed backs and soft cushions. The detachable, coiled 3m cable gives you that "on my way to the studio" look and will stop you tripping over lengthy cables when you get there. The delivery is clear and natural with good definition, but the bass lacks excitement and the whole sound has the clinical edge often associated with studio monitors.
Verdict: The solid, reliable and undemanding delivery makes them perfect for long listening sessions.
Audio Technica ATH-W5000
Price: $1795
Rating: 4/6
Despite being enclosed in wood, these reference headphones create a real sense of space, and are well suited to the audio connoisseur who doesn't want to inflict leaky warbles on others. The sound is particularly detailed on vocals, where you'll hear every intake of breath. However, while the bass is warm, it's also distant; that makes it tempting to dial up the volume, at which point the high end verges on the shrill.
Verdict: Detailed sound and comfortable on the ears, but it's hard to justify that price.
Beyerdynamic DT660
Price: $359
Rating: 4/6
It's difficult to get comfortable with these big over-ear closed-back headphones. The ear-pads are hard and thin, which means the drivers sit uncomfortably close to your lug 'oles. To make matters worse, the sound is overly bright at high volumes, favouring percussion over bass in a dubby remix of Depheche Mode's Useless. Their detailed mid-range makes a better first of acoustic and rock music, though.
Verdict: Let down by a lack of bass - great for epic guitar freakouts but not much else.
AKG K702
Price: $599
Rating: 6/6
The open-backed design of the K702s delivers an expansive soundstage more akin to listening to speakers than headphones, with a clear, involving sound that's balanced across all frequencies. Gone are the sonic reflections that muddy the sound of closed-back cans, but with them goes your protection from outside noises. Pair them with a dedicated headphone amp, stay indoors, close your eyes, and enjoy.
Verdict: Gloriously open, well-balanced sound worthy of headphones twice the price.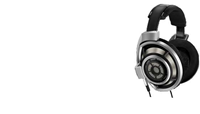 Sennheiser HD 800
Price: $1999
Rating: 6/6
Strap on the gloriously comfortable HD 800s and you won't feel like you're wearing headphones. You won't feel like you're listening to headphones, either. They're a masterpiece of transparency, with a vast frequency range and harmonic distortion levels of less than 0.02%. You won't just hear everything in the recording, you'll hear everything that's missing too, so compressed music files are best avoided.
Verdict: Dim the lights, set your La-Z-Boy to vertical and immerse yourself in naked music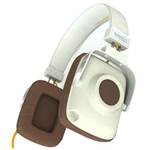 WeSC Maracas
Price: $145
Rating: 3/6
Like a pair of shiny PVC leggings, these fashion 'phones are uncomfortable, plasticky, and only stylish when worn by truly Beautiful People. Sound quality is mushy and claustrophobic when playing anything but dance music, yet when fed bass-heavy beats they vibrate your inner ears as they you're standing right next to a speaker stack in a tiny dubstep club. Which is very probably the point.
Verdict: A triumph of style over substance, these are strictly for the most frivolous of fashionistas.

Denon AH-D1001
Price: $297
Rating: 5/6
These compact, comfortable on-ear closed-back headphones are clearly designed for life on the street, hence the punchy sonics and short cable. Bass is strong but not overwhelming, and the mid-range and top end are crisp. Don't expect a chasmic soundstage or incredible definition though. They're more at home with compressed music from your iPod than those SACDs you've been saving for a rainy day.
Verdict: Willing and able, these are great all-round on-ears for everyday iPod listening

Grado GS1000i
Price: $1500
Rating: 6/6
They look like a wartime radio operator's head-set and don't match the comfort of the Sennheisers, but listening to the Grados is like hearing music for the first time. Though not as transparent as the HD 800s, the sound is bigger, warmer and more musical. You'll not only hear new sounds in familiar tracks, you'll feel new emotions too. For instance, deep regret at having spent all of your savings on headphones.
Verdict: Beautifully made and amazing sounding, they're the best headphones a small fortune can buy.
When it comes to audio quality, over-ear headphones are truly outstanding. We look at eight high-end models.