The Lenovo ThinkPad W700ds is a revolutionary laptop. It's the first we've seen to have a second screen built in, the first we've seen to integrate a graphics tablet, and the first to boast a Pantone colour calibrator too.

Screen
That second screen slides neatly from the right-hand side of the 17in main panel; it measures 10.6in from corner to corner and has a native resolution of 768 x 1280. It doesn't have the same quality as the main screen, but it's useful for displaying email, web pages, or the many floating toolbars that can clutter the screens of creative professionals.

The primary 17in panel has a capacious native resolution of 1920 x 1200 and offers a huge swathe of desktop space with which to work, as well as very good quality. Colour accuracy is beyond reproach - the Pantone colour calibrator in the wristrest ensures it stays that way - and viewing angles are superb. Our only minor qualm is the panel's slightly grainy finish, which is most obvious on the plain white of a Word document.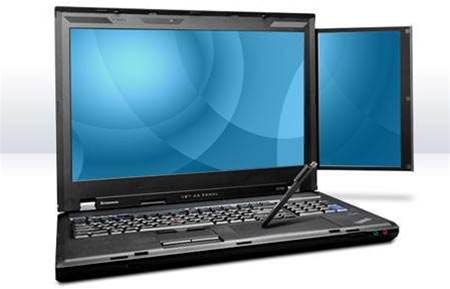 A beast among laptop workstations: Lenovo's W700ds has an integrated, slide-out 10.6in second screen, in addition to the 17in main panel
Integrated Wacom tablet, second screen
The integrated Wacom graphics tablet is operated by a stylus that's stored in the side of the Lenovo's chassis. This has a certain gimmicky appeal, but we weren't entirely convinced of its worth. Left-handers won't get on with it since it's mounted on the right-hand side of the wristrest, and it's too small to be a practical alternative to a standard external tablet.
Specs
Lenovo's inclusion of the graphics tablet, as well as the second screen, marks the W700ds out as a machine for graphics professionals, and a peek under the hood confirms this. Our review unit came equipped with Intel's latest entry-level quad-core Q9000 processor, 4GB of DDR3 memory and dual 200GB hard disks running in a RAID0 array. Despite the processor's relatively low 2GHz clock speed, it's a combination that powered the W700ds to a fine 1.39 in our benchmarks.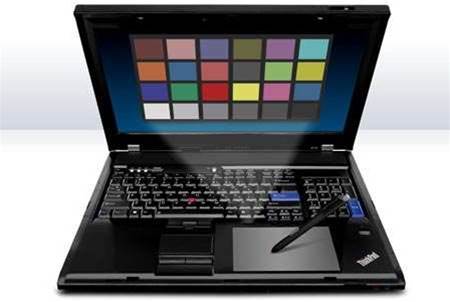 Excessive touchpad area: Lenovo has crammed a mini Wacom graphics tablet into the chassis
Graphics
Graphical grunt is provided by Nvidia's professional-class Quadro FX 3700M chipset, teamed with 1GB of RAM. Not only is this a powerful performer, but it's backed by ISV certification, so you can be sure that whatever you choose to run on this machine - be it CAD, 3D rendering, high-end photo editing, or video production software - it will work just as the developer intended.
There are other useful touches, too. Fingerprint and memory card readers improve both security and versatility, while two small lights built into the top edge of the main screen provide illumination of the keyboard and number pad in dim conditions.
It's no entertainment laptop, but that hasn't prevented Lenovo from including a Blu-ray writer as well: useful for backing up storage-hungry graphics and design or video files, or a bit of high-definition entertainment when you eventually knock off work.
As usual, this ThinkPad's build quality is beyond reproach. The keyboard felt solid and up to the usual standard, and the huge screen barely flexed at all when we tried to twist and prod it.
Weight
The downside is the 5kg weight - 6kg if you include the power brick - and 58mm thickness, both of which contribute to a machine that's too heavy to carry around on a regular basis. We weren't impressed with the trackpad either, which felt inaccurate, although Lenovo does include its customary trackpoint as well.
Battery Life
And battery life, not surprisingly, isn't great: the 7800mAh unit on the W700ds lasted 3hrs 34mins in our light-use test, and ran out of juice before the hour mark under intensive conditions. This shouldn't prove too much of a problem, though, since the ThinkPad's heft is likely to keep it deskbound for the majority of its life.
Conclusion
Despite the odd niggle, we have to admit a sneaking fondness for Lenovo's ThinkPad W700ds. It's an impressive mobile workstation bursting at the seams with every feature known to man, plus a few innovative extras too. It's extremely powerful, versatile and well built, and while the price of this particular model is high, it's worth noting that if you visit
Lenovo's website
you can tweak the specification and save yourself a fair bit of cash.
It may not be everyone's cup of tea, but if you need your workstation to be more mobile than a desktop, there's nothing else on the market that can match the Lenovo's range of capabilities.
Other items we'd buy If money were no object:
Leica's $14,750 compact digital camera
Revolutionary features and stunning power: for anyone lucky enough to have the cash, the Lenovo ThinkPad W700ds is the ultimate mobile workstation
Specs
$7007
2GHz Intel Core 2 Quad Mobile Q9000, Intel PM45 Express, 4GB 1066MHz DDR3, 17in screen, 1920x1066MHz, Nvidia Quadro FX 3700M 1GB DDR3, 2x200GB, Blu-ray writer, Windows Vista 64-bit