A pretty average offering for AMD fans.
Years ago, the most you could expect from a motherboard was that it'd technically turn on and (if you were lucky) give you a few POST beeps. These days however, we're both seeing and expecting a lot more from these slabs of silicon, and keeping the ball rolling on both counts is an increasing challenge. GIGABYTE hasn't had any trouble keeping up in the past, but with every new chipset launch there is always a measure of uncertainty.
Based around the 890GX chipset, this board packs in a relatively slow graphics core that is a rough equivalent to a HD4290. It's technically DX10.1 capable, but you'd have to be bonkers to bother trying to actually play a DX10 game on it, and even DX9 will stress it. Interestingly you've got control over clockspeeds in the BIOS, and the core clock of 700MHz can be raised in increments, but ultimately no amount of overclocking will ever get it to be usable in games.
The PWM heatsinks are coated in GIGABYTE's latest racecar styling, and seem barely capable of handling the heatload generated. On top of this, the tiny heatsink that lies on the SB850 chipset handles heat as well as a self-absorbed Broadway performer handles bad reviews. It heated up quickly and hugely, hitting finger-scalding temps without airflow and merely uncomfortable temps once under the flow of a decent fan; pretty damn unacceptable for a modern board. Hopefully the BIOS engineers can do something about this, but it's still an oversight that should have been corrected long before this stage.
Thankfully the rest of the board is relatively neatly arranged, with the 8- and 24-pin connectors sitting in their usual positions. A vertical IDE port lies near the six right-angled SATA3 ports that come from the SB850 chip, but they're also joined by an additional two SATA2 ports that are fuelled by an additional chip. There's a bunch of USB and firewire headers at the bottom of the board for flexibility, and there's even a Floppy port for those hoarders who simply refuse to let the interface die.
Expandability continues when looking at the rear I/O panel; four USB2, one PS/2, DVI/HDMI, VGA, Optical, 6-pin FireWire, Gigabit Ethernet, two USB3 and 7.1 channel audio are on offer. There's heaps of choice here, and while only a single digital output can be used at a time, the analogue output gives the capacity for dual-monitors without the need for an additional graphics card. It's a nice way of getting HTPC duties mixed with home use, since you can run a HDTV and hi-res monitor at the same time.
Comparing the stock performance of GIGABYTE's 890GX board to the ASUS M4A89GD-PRO on Page 37, it's a surprise to see that the UD3H has better scores across most benchmarks, only missing out on Cinebench and Everest memory tests. Unfortunately the situation ain't so peachy at the second and third OC levels, with the PRO whooping the UD3H across most of the benchmarks at identical settings.
Even the overclockability of the UD3H seems restrained, no doubt hindered by the southbridge, and we only eked out a max speed of 3776MHz at 236x16 with 1.5V. This is a less-than-average result, and is a shame considering the pedigree of the manufacturer. While the BIOS was perfectly functional and organised the settings clearly, it just didn't feel quite finished even with the latest F4 BIOS used at time of writing.
In all, if the southbridge issues can be cleared up this board will prove a nice choice with extra storage options packed in.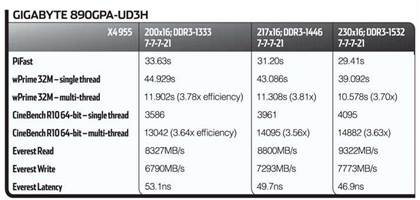 Needs work to feel complete, and is way too hot.
Specs
$200
Socket AM3; AMD 890GX chipset; ATX form factor; 2x PCIe x16; 3x PCIe x1; 2x PCI; 6x SATA3, 2xSATA2; 2xUSB3; DDR3-1866+