The TomTom Start may be the best value GPS you can buy for under $200. The revamped design is stylishly simple; no deceptive buttons, no funny little pieces hanging off. At 20mm the GPS is slim and it only weighs 125g, so it's small enough to place in a shirt or jeans pocket.
A number of enhancements have happened since the release of TomTom's earlier devices - the TomTom ONE and TomTom GO. For the fashion conscious, TomTom have released StartSkins; interchangeable plastic cases that are available in a range of different colours for an extra $24.95. It's not important by any means, but might make a nice little gift under the Christmas tree.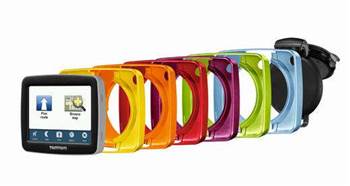 StartSkins - avaliable in 'almost' every colour
Easy to use

The EasyPort mount is a blessing for drivers. Compared to competing mounts by other GPS brands, TomTom's is a clear winner and very simple to use.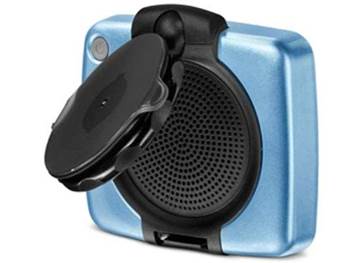 The EasyPort mount is easy to use
The mount is also detachable, adding to the unit's compact design and portability. TomTom claims the rechargeable battery in the unit lasts will last about two to two and a half hours. TomTom guarantee ensures you'll have the most up-to-date maps at time of purchase.
Routing and maps
TomTom IQ routes are useful too. They give valuable assistance to drivers keen to find their way home and the right way home. The data is updated each time you connect your TomTom to the computer.

Routes that are better at various times of the day are collated from hundreds of thousands of users and this data can be used to avoid traffic. This is different to the way GPS devices quipped with the SUNA traffic service works - which collect real-time traffic data from sensors. We found TomTom's approach accurate for most of the routes we took.
Unfortunately Australian voices lack text to speech options, but it's one of the few quibbles we had. Unlike more expensive GPS devices, the Start doesn't have Bluetooth and lane guidance, but not everyone will need them.

Screen spec
The 3.5in screen isn't huge by any standard. Some people will be easily turned off by staring at a screen this small. Still, the unit is cheap - we've spotted it online for $178.

Overall First Impression
The TomTom Start may not have all the bells and whistles of its older and more expensive siblings, but it gets the job done and done well on a budget. If you can handle the reduced screen real estate, this could be all you'll need to spend on a quality GPS.
If you can look past the 3.5in screen, the Start is portable, easy to mount and ultra cheap. So, what's not to love about TomTom's latest and smallest GPS?
Specs