Until now buying a budget Android phone in Australia meant that you were disadvantaged in several key ways, the main one being many handsets still run older versions of the OS.

Budget handsets from Motorola, Sony Ericcson, LG and Garmin run old versions of Android like 1.5 (May 2009) and 1.6 (Sept 2009) with promises in some cases that they will be updated soon.
Which is why the previously unknown Millennius brand has caught our eye with the Millenius Apanda A60: our pre-production handset we tested and the first available stock for sale will all run Android 2.1, and will therefore be capable of running the latest Android apps like the official Twitter app.
This is significant, considering we're told the A60 will be released in Australia in mid-August at between $400-$450 (8GB or 16GB storage). This would make it one of the cheaper unlocked Android phones running 2.1.
The phone
The Apanda A60 is being imported and sold in Australia directly online by Millennius in four colour variations. Big mobile phones brands like HTC and Apple are made in Asia and the Apanda A60 is no different, made by well known Chinese manufacturer FoxConn.
The difference is that the Apanda A60 was made for the vast and fast growing domestic Chinese mobile market as well as Western buyers, so it covers all the basic smartphone features at a lot cheaper price than phones manufactured in China purely for Western buyers.


It's raw Android, but that's not necessarily a bad thing: The Millennius Apanda A60
In an interesting move the Apanda A60 says it supports GSM 850/900/1800/1900 and WCDMA/HSPA 850/1900/2100 so it should work across all Australian mobile networks including Telstra NextG.
We tested our pre-production Apanda A60 with Vodafone and 3 Mobile SIMs and the phone automatically used the correct 3G and data settings for both.
Multitouch Capacitative Screen
A true smartphone needs a capacitative screen to allow a proper touchscreen experience and support multitouch pinch and zoom capability for web browsing, photo viewing etc.
The Apanda A60 supports both of these, unlike other budget Android phones such as the Motorola DEXT and Sony Ericsson XPERIA X10 (no multitouch) and LG Optimus (resistive screen).
In addition, the Apanda A60 runs Android 2.1 as Google intended it, without massive modifications to the user interface that can cause unexpected bugs or slow the phone down.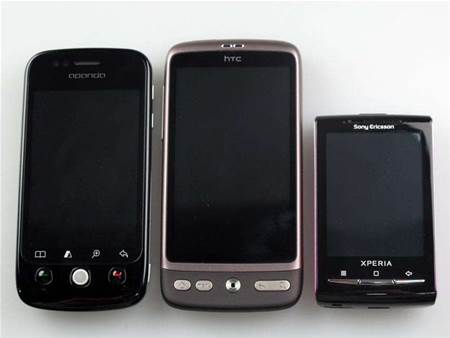 A smaller screen than the HTC Desire (middle), and larger than the conveniently pocked sized Sony Ericsson Xperia X10 Mini
Design: cheap and cheerful
Obviously, you're not going to get the same premium phone hardware as the market leading HTC Desire or Samsung Galaxy S by spending less than $500.
At 3.2 inches the Apanda A60 screen is physically smaller than the Desire's 3.7in and Galaxy S's 4in, and has a lower resolution at 320x480 pixels compared to these other phones, which display 480x800. The display is also less vibrant.
Responsiveness
Despite the relatively old Qualcomm 600MHz CPU, our first impressions are that the Apanda A60 is surprisingly responsive, which makes us wonder if this has something to do with not having a custom user interface layer on top.
Conclusion
We'll reserve our final judgement until we've had the opportunity to conduct in in-depth review, but our first impressions are that while the Apanda A60 isn't perfect, it offers a mixture of decent smartphone hardware, with generous included storage for music and photos.

It also has all the benefits a brand name Android phone has like the best built in Gmail experience, Chrome browser, GPS Google Maps and access to over 70,000 apps in the Android Market.
Surprisingly responsive, the Millennius Apanda A60 stands out in the Android phone crowd because it runs 2.1 and it's cheap. See our first impressions and photos