"Is that the new Mac?"
The first five people to wander past the Dell Studio One on my desk really thought it was a Mac. Upon finding out that it was a Dell, they wondered aloud whether Dell was courting the Mac audience.
In looks, though, the Studio One borrows a little from Mac and a little from Asus' EeeTop, as well as having a hearty serve of Dell.
Design and appeal
We've seen a few Studio laptops come through the labs, and in each case the spec has been good, but a little more expensive than we'd like. Their style is about rock-solid build, with classic understated elegance - a geek style, if you will.
The Studio One departs from that mould. Our version came in crisp white, with a curved white and clear glass panel overlaid on top of a curved white chassis.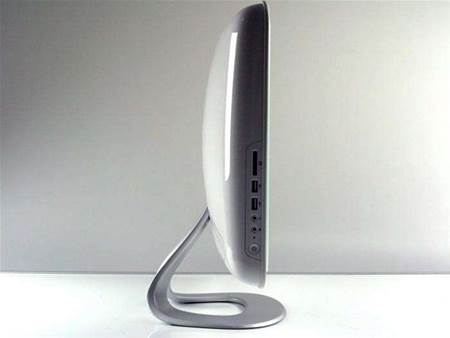 The White Studio One has lush curves
White is a little old hat these days - it only makes it into the cheaper lines of netbook, for example - and sadly takes away from the appeal. Which is not to say the Dell isn't attractive - it's a good-looking machine. But is it too cheeky to say we'd have liked to see the Charcoal version of the pre-production model?
Ok, but how about the specs?
We got a pre-production model in for a first look and Dell tells us the specs are not final; the final release will be available in May, and it'll be a few weeks before we get to put the Studio One through it's paces properly.
The press release suggests that it will come in Intel® Celeron, Dual Core Celeron, Pentium Dual Core, Core 2 Duo, and Core 2 Quad Core Processor options. That places our model firmly in the middle of the specification range with its Pentium Dual Core E2220 processor. 3GB of RAM and a 320GB hard drive supplement the processor; if you added a Core 2 Duo it would be comparable to the entry-level iMac. The lowest-end spec, with a Celeron processor, will more closely resemble the EeeTop.
If you squint, you can see the EeeTop?
Our pre-production model came with Geforce 9200 graphics, which, like the processor, is below iMac current specs, but the press release offers GeForce 9400 graphics as an option.
It's not as much grunt as we'd like to see - especially for a high-end Quad Core version, of the Studio One, but it will at least handle Direct X 9 games ably.
The widescreen 1366 x 768 screen is 18.5in diagonal - that's about the size of the Acer 8920G laptop screen, but in a desktop it feels smaller. The wide bezel - including the speakers - also contributes to the cramped feeling. Having said that, there's a lot fitted into a small package. The overall dimensions, at just 560 x 410 x 210, puts it around the same size as a 22in monitor, for a full PC.
Connectivity-wise, there are 6 USB ports, multicard reader, fast Ethernet, mic/headphone and audio-out, built in webcam and built in speakers. There's an 8x DVD-RW in our pre-production model, and you should be able to get Blu-ray as an option in the final version.
Connectivity is a bit light, though 6 USB ports is generous
There's also, tantalizingly, a multi-touch option, but our model didn't come with it - we'll give you all the details once we see it in action.
Conclusions
Without having access to the final spec list, it's hard to draw any conclusions. Our pre-production model is essentially a low-rent iMac, but we expect the final version to equal or exceed entry-level iMac specs.
The key point, then, is the price; it will need to be competitive with the iMac, but there's certainly a core of people out there looking for an iMac form factor with a decent spec that the Studio One will find a home with.
It's not the new iMac, but it's not too far from it. See our first Look review of Dell's all-in-one Studio One 19
Specs
• Product name: Dell Studio One 19
• Vendor: Dell
• Supplier: Dell