Gaming notebooks are a breed unto themselves. Historically they have been the oversized, overweight cousins of other consumer laptops, trading off sleek design and portability for the processing and graphical grunt needed to get the most out of cutting edge 3D games.
This alone makes Alienware's M11x a curious beast. Based around a relatively tiny 11in screen, this notebook uses an Intel Mobile Core 2 Duo SU7300 CPU, one of the CULV range of processors. This is a high end chip in the CULV space, but not something one would expect to find in a gaming product.
It is a choice of processor based more around form factor than performance. Higher end gaming notebooks like the Alienware M15 and HP Envy 15 use the gruntier Core i7 processors. It is the form factor of the M11x that necessitates the CULV option.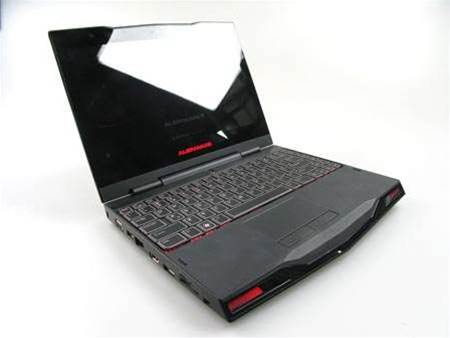 The M11x uses the same basic styling as larger Alienware notebooks, complete with customisable backlighting.
This isn't to say that Alienware has put an average 11in notebook in a fancy case, slapped a $1599 price tag on it and left it there. The M11x sports both integrated Intel HD graphics and a discrete NVIDIA GeForce GT335M graphics chip.
As is the norm with dual graphics notebooks the integrated graphics are designed for day to day use, while switching to the NVIDIA GPU will slash battery life while significantly upping the 3D capabilities of the notebook. But this is after all a gaming focused notebook, and there is an expectation that any heavy computing tasks will be done while tethered to a power outlet.
One thing that did spark our interest was the inclusion of a BIOS option to overclock the CPU's 800MHz FSB to 1066MHz (the DDR3 RAM in the M11x is already capable of this bus speed). While this isn't a great idea for those using the notebook on the go, it is definitely something slated for further testing when we get into our labs tests on this miniscule powerhouse.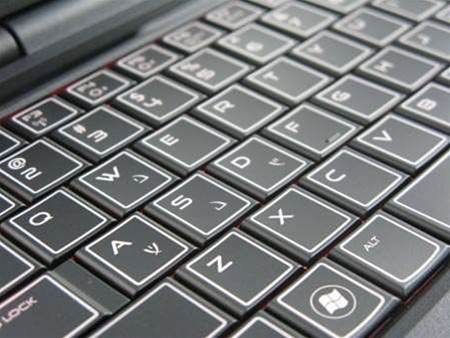 While the small form factor means no number pad, the keys on the M11x are a comfortable size to game with.
While there is no doubt that the M11x is an impressive piece of technology, we do wonder just how it is going to fare in our labs testing. Gaming notebooks always involve the tradeoff between portability and power - so we wonder just how much performance we will be able to get out of such a small package.
Ultimately, our major worry is not the performance so much as the fact that 11 inches of screen real-estate feels a little too small for a satisfying gaming experience. It may well be fine for a bout of Modern Warfare 2, but for complicated, UI heavy games like World of Warcraft the compact screen could well work against the M11x.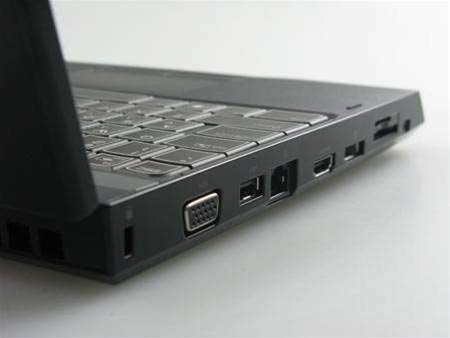 There are ample options to attach a monitor to the M11x, with D-Sub, HDMI and DisplayPort sockets built in.

While most gaming laptops trade size for performance, Alienware has managed to shoehorn a gaming rig into an 11in chassis
Specs