Dell might have turned up fashionably late to the netbook party, but the Inspiron Mini 9 is a model we're happy to recommend. The all-new Mini 12's most significant novelty is its screen size. Where other netbooks make do with native resolutions of just 1024 x 600, the Mini 12 stretches 1280 x 800 pixels across a bright, 12.1in display.

The Mini 12 is impressively svelte considering that ample display, weighing just 1.23kg. It's also sturdy and small: it stands 23mm proud of the desk at its thinnest point, a figure that swells to just 28mm at its rear.

The looks aren't such a resounding success. Where the Mini 9 had a cutesy charm, which let it get away with a dowdy grey and black physique, Dell has done little to adapt the look to its larger machine. Sit the Mini 12 on a desk with its lid firmly shut and its glossy black lid looks smart; tilt back that fingerprint magnet, however, and it's a different story. The wide, glossy grey wristrest and matte-black accents leave the Mini 12 bordering on plain ugly.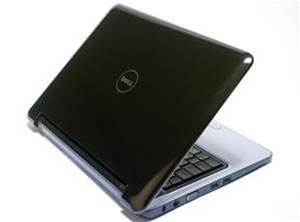 A poor keyboard, sluggish performance, and unimpressive features leave it languishing behind Samsung's NC10 in all but screen resolution.

With all that chassis to work with, we'd have expected Dell to capitalise on the extra space, but a 2cm strip flanks the keyboard on each side and results in a cramped layout. The light, indistinct key action is compounded by noticeable flex on the left half of the keyboard's base, and the mouse buttons are as spongy and indistinct feeling as the keyboard they accompany.

Thankfully, the 12.1in display restored a little of our customary cheer, with clean, bright whites and vibrant colour reproduction. Viewing angles aren't the best, but they're good enough, and the 1280 x 800 pixel resolution is a huge relief after working with the cramped 1024 x 600 confines of other netbooks. The problem is the Mini 12's inability to do its display justice in other key areas of its specification.

Dell's tech specs suggest that there are two available models. Presumably the one which comes with a 1.33GHz Intel Atom Z520 processor, a single gigabyte of memory, a 4200rpm 40GB hard disk and Ubuntu 8.04 installed is cheaper. Both the black and white versions offered on the website both have the same configuration, however; at $849 they boast a 1.6GHz Z530 processor, 1GB of memory, a 4200rpm 60GB hard disk and Vista Home Basic.

And both come with a small, three-cell battery. You should be able to buy a Mini 12 with a six-cell battery as an option by the time you read this, but Dell was unable to give us a price. Suffice to say, it will end up costing more than the current price, which is already at the upper end of netbook acceptability.

Plus, while you might expect even a lightweight Atom to be more than a match for Windows Vista Basic, it turned out to be disappointingly underpowered. Booting to the desktop takes a reasonable 1min 10secs, but load up OpenOffice or Mozilla Firefox and the Mini 12 staggers into action with all the dynamism of a slug. Even basic navigation, such as opening system menus, is punctuated with irksome pauses.

Considering the Mini 12 uses an Intel Atom Z530 processor alongside its matching GMA 500 graphics chipset - a chipset theoretically capable of decoding HD video even on low-power Atom-based platforms - we were also surprised to discover that its graphics performance was poor.

In fact, our Mini 12 struggled with streaming internet video let alone HD files. YouTube and Freecaster.tv juddered along at well below their usual, smooth frame rates, and expanding the window to fill the screen slowed action to a crawl. DivX files were also too much for it: playback alternated between smooth and stuttery with aggravating regularity. If this is a driver issue, it's one that Dell needs to address quickly.

Poor battery life hammers home the Mini 12's limitations. The three-cell battery helps maintain the smooth lines and light weight, but its 2200mAh capacity leaves the Mini 12 expiring just short of the three-hour mark. Turn on the wireless, and that soon dwindles closer to two. It looks as if the six-cell option is going to be a necessity rather than an option for Mini 12 purchasers.

All this means that, apart from its display, there's little to recommend the Inspiron Mini 12. Indeed, any hope that some benefit might have come from its larger frame is extinguished by a multitude of sins: a poor keyboard, sluggish performance, and unimpressive features leave it languishing behind Samsung's NC10 in all but screen resolution.

In light of these deficiencies, even the presence of XP Home and a high-capacity battery would only elevate the Mini 12's score from a maudlin two to an unremarkable four. All in all, it's a terrible let-down.
Dell's 12.1in netbook could have been good, but you'd have to buy one in the US to realise its true potential
Specs
$850
• Price: 850
• CPU model/brand: Intel Atom Z520
• CPU speed: 1.33GHz
• Memory capacity: 1GB
• Hard drive capacity: 40GB
• Internal optical drive: No
• Graphics type: Integrated
• Graphics: Intel GMA 500
• Screen size: 12.1in
• Screen resolution: 1280x800
• Dimensions WDH: 299x183x28
• Wi-Fi: Yes
• Bluetooth ports: Yes
• Operating system: Ubuntu 8.04
• Manufacturer: Dell
• Supplier: Dell