With the EOS 1000D now catering for the entry-level market, the remaining sub-$1500 cameras in the Canon EOS range need to bring something more than basic features to the table. The 550D certainly delivers that on paper.

The megapixel wars are over - the battleground is now high ISO performance - but the 550D has a token increase anyway, up to 18 megapixels from the 500D's 15.1. And talking of ISO, the 550D sports ISO 6400 out of the box, and ISO 12800 if you enable ISO expansion in the custom functions menu.

Sensor
Behind the reflex mirror lurks a CMOS sensor, boasting the latest Canon design with gapless micro-lenses. With no dead gaps between the tiny light-gathering lenses positioned over each of those 18 million pixels, Canon claims dramatically increased light-gathering capability. That, theoretically, offsets increased noise from the denser photo-sites needed for an 18-megapixel sensor.

Low light performance
Unfortunately, we found high ISO performance disappointing. Drinking in Canon's gapless sensor claims, we were expecting something groundbreaking from the 550D. In truth, it isn't noticeably better than the 500D. The maximum setting we'd call acceptable is still ISO 3200, with fine detail and nuance almost entirely sacrificed to noise at ISO 6400 and ISO 12800. If you want low-noise shots at very high ISO, you'll still need to budget for a full-frame camera such as the EOS 5D Mk II or Nikon D700.

At lower sensitivities, though, sensor resolution is great. Those extra three million pixels do give slightly more detail, rather than just bigger file sizes with no extra quality. Enable the highlight tone priority mode, and dynamic range is excellent even in very high-contrast shooting situations.

Design
Its outward design is nearly identical to the 500D, save for some slightly restyled buttons. What may not be immediately obvious at first glance, however, is that the rear display is now widescreen. The 550D is the first camera to sport a 3:2 aspect ratio display, compared to every other DSLR whose screens are closer to 4:3. Since 3:2 is the native image aspect ratio of a standard DSLR, that means you can preview shots without letterbox borders at the top and bottom. Expect to see other manufacturers follow suit soon.

Screen
The screen itself is one of the new generation, with 1040k resolution; high enough that you can't see the pixels in onscreen menu text.
Looking around the new animated menu system, there are a few additions. Playing catch-up with the competition is a feature that finally allows you to set an upper ISO limit when sensitivity is set to Auto. It still lags behind Nikon, however, since you can't set the base sensitivity level nor the minimum shutter speed at which the camera starts to up the sensitivity.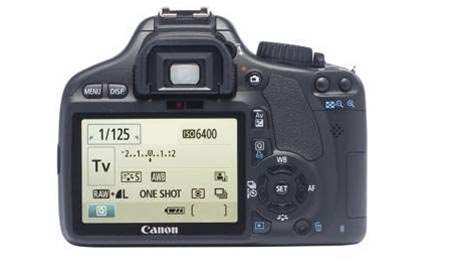 The 550D's 3:2 aspect ratio display means you can preview shots without letterboxing
Enthusiasts of HDR will be pleased that exposure compensation has been expanded to +/-5EV from +/-2EV, but you can still only go two stops either side in exposure bracketing mode, and the mode is still limited to three shots.
Video recording
Beyond the slightly underwhelming news for still photography, the biggest advance for the 550D over its predecessor is its video capability. It will now record full 1080p at up to 25fps (you can choose film-standard 24fps too), or super-smooth 720p at 50fps. It will record up to half an hour of footage per take with a big enough SD card.
If you're looking for an everyday video camera, it isn't as convenient to use as a dedicated camcorder. There's no in-body image stabilisation and no autofocus while shooting. There's also a lack of recording time compared to hard disk models sporting 80GB-plus hard disks. It's possible to enable autofocus while shooting in video mode, but there's a reason why Canon has it switched off by default: it's inaccurate, hunts dreadfully, and is audible on the soundtrack.
But, now for the good part. Budding film-makers prepared to use a tripod, set up their shots and pre-focus, will be in heaven. Footage from the 550D is clearly superior in good light even to the A-Listed camcorder. The look is more like that of film than video, with no heavy sharpening needed to achieve superb high-resolution results. It's professional-level video at an enthusiast price point, and those who need it will be only too happy to work around its limitations in return for such spectacular results.
Conclusion
Overall, it's a mixed outing then. You could argue the Canon EOS 550D's picture-taking capabilities haven't significantly advanced over past incarnations, despite technical advances in the spec. But credit-crunch economics have now receded and this model is being launched at a more reasonable price than its forebears.
The EOS 550D offers just enough, then, that we'd recommend it if video is likely to represent a fair chunk of your use.
Not a huge advance for stills, but Canon 550D's video quality is stunning
Specs
$1089
• Price: 1089 (body only)