The Eee PC range continues to rapidly expand, with an incredible 15 netbook variants. Asus has also begun to produce Eee-branded desktop PCs, with the Eee Box now joined by the touchscreen Eee Top.

The new model sets itself apart from other Eee PC products: while the white chassis is reminiscent of the netbook range's toy-like looks, the 15.6in screen, Apple-style keyboard and glass bevel beneath the unit give it a far more stylish feel than the rest of its low-cost brethren.

The screen itself is sharp, bright and clear enough for most tasks the Eee Top is intended for. It uses the 1366 x 768 resolution more commonly found in LCD TVs than PC monitors, so it's capable of displaying 720p video. But don't get too excited: there's no optical drive, so no easy way to watch either HD or SD movies.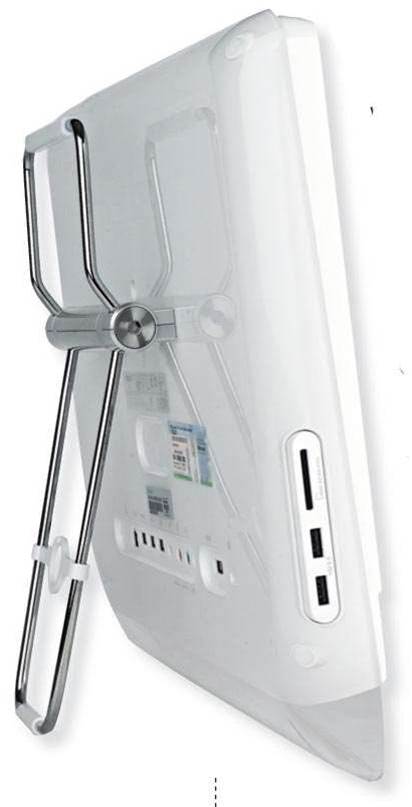 The Eee Top is slim enough to squeeze into even the tightest space

The touchscreen interface works well. While the Eee comes equipped with Windows XP Home, it's hardly noticeable - Asus layers an interface over the top, styled to resemble the tab-based version of Xandros Linux installed on the original Eee PCs.

A stylus, which can be slotted into the rear of the keyboard when not in use, makes navigation easier, but the majority of the icons scattered around the four tabs are of a decent size and we naturally defaulted to using our fingers. Coupled with the responsive screen, it makes navigating the Eee Top both quick and painless.

The four tabs house the majority of the Eee Top's applications. The first, labelled Communication, takes care of Skype, email and web apps, with direct links to popular sites - including Windows Live Mail, Yahoo, Gmail, Facebook, MySpace, Google News and Blogger - which makes getting to specific sites slightly easier, although we still found ourselves resorting to keyboard and mouse on most occasions.

The Fun tab contains media-handling software, which is remarkably similar to Windows Media Center's interface, as well as a couple of basic games that work with the touchscreen. The Work tab includes everything you'd expect, with individual links to each facet of Sun Microsystems' StarSuite productivity software, as well as a PDF reader, calculator and file manager. There's also a Tools tab with links to specific apps, including Opera and Internet Explorer, as well as a raft of customisation options.

Asus positions a 1.3-megapixel webcam above the screen - with accompanying Eee Cam software - while scattered around the sides and rear are four USB ports, Gigabit Ethernet, a card reader and a trio of audio ports.
Underneath the attractive exterior and slick touchscreen interface is largely the same hardware that powered the Eee Box. Intel's 1.6GHz Atom N270 processor is joined by a gigabyte of RAM, GMA 950 graphics and draft-n wireless, while a 160GB hard disk is a step up from the majority of netbooks. Asus is also planning to release another model with discrete graphics, in the shape of ATI's Mobility Radeon HD 3450, although there's no word on its price.

The familiar spec means performance is similar to that of the Eee Box and Eee PC netbooks - functional, not fast. Despite this, XP and the touchscreen interface run without any problems, likewise word processing and web surfing. Attempt something a little more demanding, however - such as video editing - and you'll run into problems as the Atom CPU struggles to cope.

But that isn't really the point of the Eee Top. Like netbooks, this is meant to be a secondary PC for simple tasks, and we can see it finding a niche both in homes - say, the kitchen, or a child's bedroom - and offices. It even has enough style to be a front-of-office PC.

That's not to say it's without frustrations. The touchscreen is useful for listening to music, watching movies and basic web functions, but every time we needed to do something more complicated we immediately fell back to the familiar keyboard and mouse.

For anything more than the most basic tasks there are plenty of better options than the Top. You could indulge in a cheap dual-core PC that would be far more versatile. Nevertheless, we do like this little machine, and if your needs fall within its niche you won't regret buying it.
An impressive touchscreen all-in-one PC for an equally impressive price, but the single-core Atom holds it back
Specs
$1299
• Product name: Asus Eee Top ET1602
• Vendor: ASUS
• CPU model/brand: Intel Atom N270
• CPU speed: 1.6GHz
• Memory capacity: 1GB
• HD capacity: 160GB
• Screen size: 15.6in
• Screen resolution: 1366x768
• Operating system: Windows XP Home
• Price: 1299
• Supplier: ASUS