Is a reworking of Antec's popular 900 case worth bothering with?
Labelled as an 'evolution' of the original Nine Hundred case, the Nine Hundred Two (902) weighs in at roughly $45 more than its predecessor - so should you drop the extra cash, or have the features added been largely superfluous?
Externally, you'd be forgiven for glancing at the 902 and assuming it was nothing new. It's only when you delve deeper into this case that you start to notice the differences, and these start early at the very top of the case. The front I/O ports include two USB, eSATA, and mic/headphone jacks, though the latter aren't labelled at all. You're going to have to trial-and-error these until you know which is which, a strange oversight. Thankfully this area is held up by the very good power and reset buttons, each responsive and firm to the touch.
Up on the very top is where the inset bucket used to reside, which has been replaced by a large flat surface area with grooves to hold onto whatever you decide to chuck up there. A huge 200mm fan is also up here, with a thick honeycomb mesh that will only protect against wayward fingers, so make sure you're wary of smaller items that can fall into your precious rig.
The back has a series of switches to control the speed of the top and rear fans (which is a 120mm), as well as the LEDs in the top fan. Two soft watercooling grommets are here as well as the interesting addition of an extra PCI slot for a total of eight. This gives extra room for those lucky few with TriSLI or QuadFire to get enough airflow in, or even those who use PCI fan controller brackets.
The left-hand sidepanel has the same Pacman-esque shape as the original case, as well as a mount here for an extra 120mm fan. Opposite this is the other panel - which is bare - and both seem to have been constructed with thicker steel than the original. This becomes even more apparent with the extra 3kg weight increase - it has been packed into the panelling and frame.
Even the front fascia has had a small reworking, retaining the same columnar angular sides with meshed drive bays, but adding two small dials to control the two 120mm intake fans. All the fans in this case are made of black plastic, with blue LEDs, and produce a very interesting effect when compared to the usual clear plastic. Not only that, but every intake is filtered to ensure only a minimal amount of dust can gain entrance.
One of the first things you notice when peering inside the case is the colour, or lack of. The whole inside of the case, and every metallic part save the standoffs and a few screws has been painted black. This looks quite impressive, and will make the lighting look even better in a darkened room. While there are no quick-mount rails for 5.25in drives, they are installed in the now somewhat old-school manual method, using screws.
The PSU is located at the bottom, supported by four rubber discs to absorb vibration, and there are convenient holes in the mobo tray to let cables and such be hidden neatly out of view. Just make sure to check the cable length, as some shorter ones won't have enough slack to make it all the way behind as well being plugged in! There is a lot of cable for the front panel though, giving you plenty of reach for even the wonkiest of mobo setups.
In all, the Nine Hundred Two is a decent improvement on the original, and definitely worth the extra cash.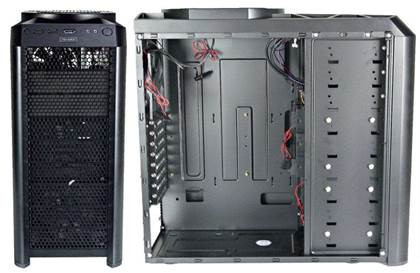 Definitely worth it; a great case all-round.
Specs
$215
218 x 493 x 472mm (W x H x D); 2 x 120mm blue LED Fan (front); 1 x 200mm blue LED Fan (top); 1 x 120mm blue LED Fan (rear); 9 x 5.25in drive bay (external); 6 x 3.5in drive bay (internal); ATX, M-ATX; SECC Steel with windowed panel.