Just when we thought the famous Athlon name was on its last legs, AMD shook things up by introducing the Athlon II. Don't expect any great resemblance to its forefathers, though - rather than updating the old Athlon architecture, the new parts are based on the same K10 design as the Phenom II. Availibility is limited, however.
Quad core

While the Athlon II X4's 45nm Propus die is based on the same design as the Phenom II, unlike the Phenom it includes no shared L3 cache. It does, however, retain the premium processor's 512KB of dedicated L2 cache integrated into each core. The memory controller supports both DDR2 and DDR3 depending on the motherboard, and, like all Socket AM3 parts, it will work in older Socket AM2+ boards.

The 2.6GHz X4 620 and 2.8GHz X4 630 both have a 95W TDP and support hardware virtualisation. They performed fairly well in our real-world benchmarks, but unless your applications are optimised to run on four cores, they offer little advantage over their triple-core counterparts - especially since those are clocked higher. The X4 620 scored less than the X3 425, yet costs around $10 more - and for similar money a dual-core Phenom II will be faster for typical desktop tasks.

Triple core

The Athlon II X3 is in part a by-product of the imperfections of the manufacturing process. Its triple-core Rana design is identical to the X4, but has one of the four cores disabled. This lets AMD sell processors even if one core fails quality testing, which helps fill out the retail range. The Athlon II X3 has the same 95W TDP and 512KB per core L2 cache as its quad-core brothers.

Only two standard models are currently available, and both are end of life: the 2.7GHz Athlon II X3 425 and the 2.9GHz X3 435. Those higher core clocks make a difference in single-threaded applications, and the price is significant: the X3 435 costs just $106, yet its score of 1.54 beats both of its X4 equivalents. If you own an AM2+ motherboard, an Athlon II X3 processor should be on your upgrade shortlist.
Dual core

The dual-core Athlon II X2 isn't from the same stock as the X3 and X4. Its Regor core is a native dual-core design, allowing AMD to lower the TDP to a cooler 65W and up the L2 cache to 1MB per core. Clock speeds are a little higher too, so they outperform Intel's price-equivalent offerings.

The X2 250, for example, scored 1.46 in our benchmarks, while an almost identically priced Pentium Dual-Core E5400 managed just 1.26. The brand- new top-end X2 255 (expected to cost less than $110) achieved a score of 1.51, while Intel's new Core i3s are likely to cost at least $120 for now.

In the short term, all that stands in the Athlon II X2's way is the rest of AMD's line-up: three cores cost just $106 and you can step up to a Phenom from $100. But whichever route you take, there's no doubt that, until Core i3 falls, AMD has this end of the CPU market sewn up.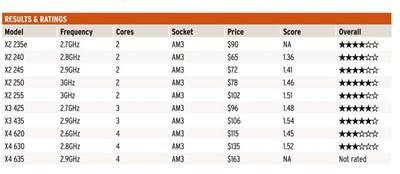 AMD Athlon II CPUs rated and reviewed: click on image for larger size
The dual- and triple-core Athlon II CPUs are simply unmatched by their budget rivals
Specs
Other Reviews in the Group Test: Time to upgrade your PC? 50 old and new AMD and Intel CPUs rated and reviewed