Some people should avoid YouTube for their own good.
The internet can be a horribly cruel place, and it looks like certain YouTube commenters are finding this out the hard way thanks to an iPhone 7 prank video that encourages people to manually add a 3.5mm headphone jack via a 3.5mm drill bit and a drill.
He doesn't even turn the iPhone 7 off while drilling it. This is smartphone trepanning without anaesthetic.
At the time of writing, the video has been watched nearly 10m times and the comments just leave my heart hurting.
Of course, being the internet, it's not 100% clear whether the people claiming they have followed the instructions actually did so, in which case the joke is on me. I think I'd rather that were the case, but anyway, this is the kind of comment the video has prompted, so judge for yourself.


To try and keep the prank going, others have been saying the terrible homemade surgery did actually work for them…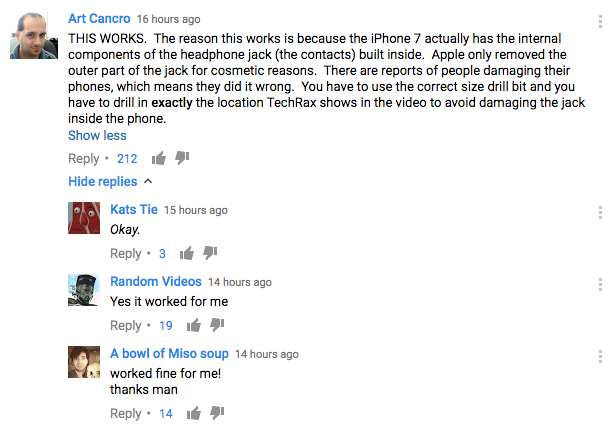 ...or worse…

More recently, people were fooled by instructions promising to introduce a original Macintosh iPhone skin by setting the internal clock back to 1 January 1970. Suffice it to say, all it actually would do was turn your iPhone into an expensive looking paperweight.