Apple's next tablet has finally been announced and arrives on March 16. Find out the Australian price of the new iPad, what's different and the release date here.
The 'new' iPad - which Apple is calling simply "iPad" - will go on sale in Australia on March 16 and will come with some significant hardware upgrades over its predecessor. It will also cost less than the iPad 2 when it debuted, with prices starting at $A539 (see more pricing info below).
See the photo gallery: Apple's new iPad 3
New features include a 9.7in retina display with 2048x1536 resolution, a dual-core A5X processor that's purportedly four times faster than Tegra 3-based tablets and 4G connectivity for access to LTE networks. [Note: unfortunately, it only supports 700MHz and 2100MHz spectrum bands which means Australia's only 4G network is not currently supported.]
As previously reported, the new iPad is slightly thicker than before, measuring 9.4mm (compared to the iPad 2's 8.8mm). Presumably this concession was a necessary to pack in the new HD display. It boasts a total of 3.1 million pixels at 264ppi, with a 44 per cent increase in colour saturation.
The iPad 3 comes with an improved camera and 1080p video recording.
The iPad 3's camera has also been upgraded to 5-megapixels (the iPad 2 had under a megapixel), with 1080p video recording. Other camera improvements include auto-exposure, noise reduction and improved image stabilisation.
The iPad 3 also comes with a new microphone key, which can be used to access the inbuilt Siri tool. Popular apps such as iPhoto, iWork, iMovie and GarageBand have also recieved updates. Battery life, meanwhile, is rated at 10 hours; the same as the iPad 2.
Pricing
Apple's launching 16GB, 32GB and 64GB models of the new iPad, available to buy on March 16th in black or white. The Wi-Fi model starts from $A539 for the 16GB model, $A649 for the 32GB and $A759 for the 64GB. For Wi-Fi + 4G the 16GB will set you back $A679, the 32GB $A789 and 64GB $A899.
The iPad 2 will continue to be sold alongside the new iPad and has had its price reduced to $A429 for the 16GB Wi-Fi model and $A569 for Wi-Fi + 3G.
Stay tuned for more analysis on the PC & Tech Authority site today.
Apple iLife apps updated for new iPad
Next to a new iPad, a suite of new apps may not the most exciting news, but iLife's been given a bump in the App Store, making them the first apps to really take advantage of the Retina Display on Apple's new tablet.
New to the team is iPhoto, tricked out with multi-touch gesture control for sorting, enhancing and retouching your snaps. There are Journals (galleries) and effects, plus the ability to create collages for sharing on Facebook. Expect your timeline to be invaded later in the month.
GarageBand gets Jam Session, allowing up to four iOS users to get a virtual band going – and record their epic tunes for posterity – while iMovie has brought the ability to make Hollywood-style trailers.
The whole iLife suite has been optimised to work with the new iPad 3's hi-res Retina Display. Download them to see for yourself – iPhoto, iMovie 1.3 and GarageBand 1.2 will set you back $5.49 each from the App Store. You'll pay $10.49 for Keynote 1.6, Pages 1.6 and Numbers 1.6. Updates are available for free to existing customers.
New Apple TV launches with 1080p video and new UI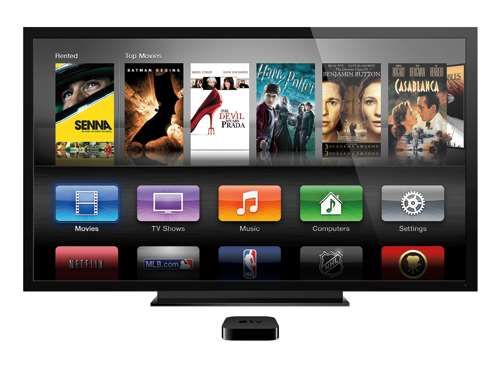 Apple TV has, as predicted, just received an update alongside the new iPad. It looks the same as the original, packed into a palm-sized black box of beauty, but its insides are far more fascinating.
A new user interface serves up third party apps like YouTube, Flickr and Vimeo – easily accessed from big, pretty tiles. It even lets you use Netflix if you're not a fan of iTunes movies – and it now has a Genius button to help you pick your flick.
Photo Stream is now available on your Apple TV and syncs live from the ether, all displayed in glorious HD. Judging from the "Computers" icon in the menu you should be able to access your home network's content very easily – probably still only MP4 films though. But it will come with AirPlay mirroring if you want to run a film on your MacBook and watch it live on your TV.
The Apple TV will cost $109 in Australia, and will be available on March 16. Owners of the old Apple TV will be able to download the new UI.
iOS 5.1 available now
Alongside the new iPad, Apple's rolling out the latest iteration of iOS. iOS 5.1 is available to download now via iTunes and over the air.
New features in iOS 5.1 include a slide-to-unlock button to access the Camera from the lock screen, plus some tweaks to the iPad Camera app, adding face detection and video stabilisation. You also get the ability to delete photos from Photo Stream.
Other additions to iOS 5.1 include dictation in English, French, German and Japanese, Genius Mixes in iTunes Match, podcast controls on iPad and improved audio in iTunes movies and TV shows.
You'll need – as our editor has discovered to his cost – at least 1GB of space on your iDevice to download iOS 5.1 over the air.
Also read:
Five tablets more exciting than the iPad 3
Opinion: Whatever you want to call it, the new iPad is a winner