Swine flu, the virus that threatens to be the next big global pandemic is now making its way into the video game world as The Swine Flu: Hamdemic.

The Swine flu has been called 'The Susan Boyle of search' and like other world events being pushed by the media online, has gripped public consciousness from all walks of life. In Mexico, there is Swine Flu art and now we have Swine flu gaming.
Gamers are being ncouraged to play The Swine Flu: Hamdemic as a way of combating the public hysteria regarding the flu outbreak. When the public isn't in panic mode and WHO aren't elevating to higher phases of global pandemic awareness, it's easy to forget that Swine flu only entered the public memory just a couple of weeks ago.
In the game, players are able to hurl spit-roasted pigs across the US / Mexico border, using a range of ammunitions. Players can catapult the sickly swine's at border fences, earning points and kudos for their efforts.
Of course, it could just be another cheap ploy to keep us at home, away from the infectious hordes. Colin Cardwell, CEO at 3RD Sense, the company that makes the game - believes that online gamers should stay at home to avoid catching the Swine Flu. That's a convenient thing for a game company to say.

If you want to get even with those evil Swines, visit this site for more pig-roasting, virus-destroying delights.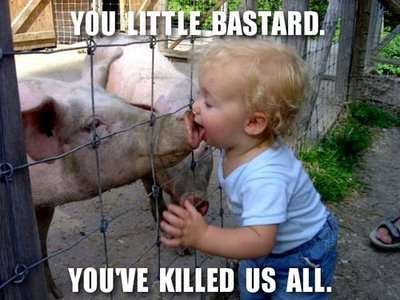 Swine flu has rapidly become fodder for Internet memes