This takes us back. A Friday nostalgia piece for veterans of the 1980s and 1990s era of gaming.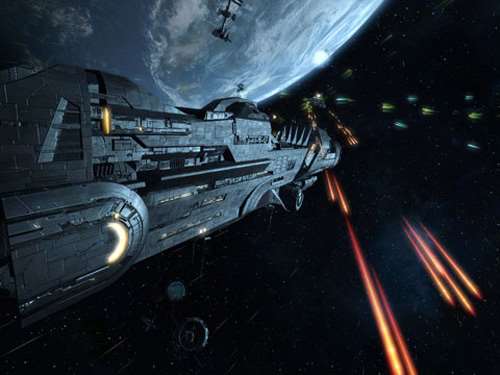 X3: Reunion (2005)
PC, Linux, Mac OS X
Picking up where 2003's X2: The Threat left off, Egosoft's freeform space trading and combat game takes more than a leaf out of Elite's spacecraft manual.
There's a lot of "cargo jockeying" as you protect your wares from space pirates and build up your trading empire in this beautiful Galaxy sandbox but there's also plenty of chances to blast the ships of the enemy, Kha'ak. Best evil alien name ever? (Tip: say it out loud.)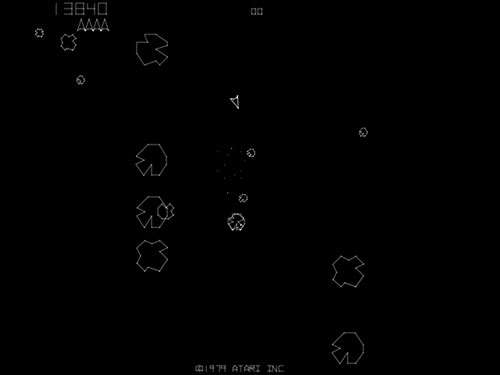 Asteroids (1979)
Arcade
There was still enough imagination in the public psyche to transform a cursor arrow into a spaceship in 1979. And Asteroids capitalised on that with an intuitive and simple premise – protect your ship from clouds of ragged line-drawn space rocks that would break up into smaller asteroids as they were hit by your space laser.
The engaging, high score-based gameplay and throbbing soundtrack helped Atari sell a whopping 70,000 Asteroids cabinets.
Freelancer (2003)
PC
Subtitled The Universe of Possibility, Freelancer was a massively ambitious game that promised dynamic economies and a multiplayer mode for thousands of players.
While we didn't quite get all that, we did get an incredibly high-production space classic in which you travel about the Sirius system meeting space-archaeologists and spies, voiced by real actors. Explosions and spaceships looked amazing then and they're still beautiful almost a decade later – only long cutscenes and repetitive missions let it down.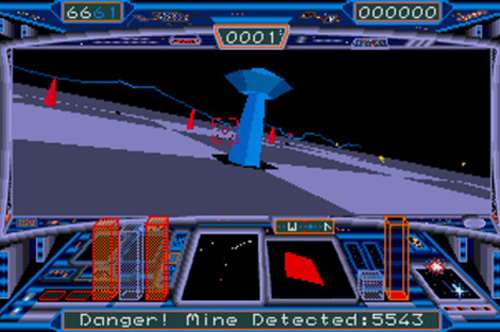 Starglider II (1988)
Amiga, Atari ST, DOS, Apple Macintosh, ZX Spectrum
Argonaut Games' sequel to Starglider was another early entry into the 3D space flight sim genre. Don't those polygonal graphics just take you back?
Gameplay is continuous (there are no levels) and even when you've destroyed the spacestation at the end, Starglider II just resets itself.
One of the only action games that could run on the Atari ST's display, some releases even included a separate cassette with the game's synth-tastic, instrumental theme on, something we should definitely get brought back.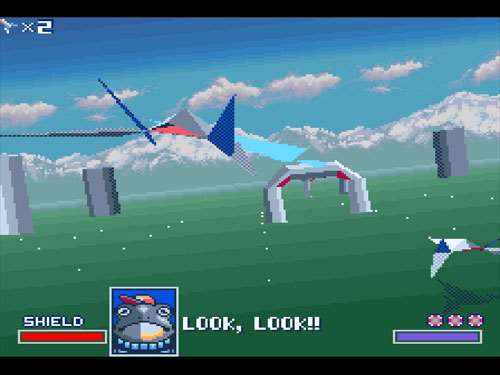 Star Fox / Starwing (1993)
SNES
Ninty shipped Star Fox as Starwing in Europe owing to an IP clash, but we all flew its stunning (for the time) 3D landscapes in awe of the innovative polygon graphics and in the company of three wingmen – Peppy Hare, Slippy Toad and Falco Lombardi.
A sequel slated for SNES release was canned to make way for 1997's more advanced Star Fox 64 (on N64), known in Europe as Lylat Wars. Slippy, Peppy and Falco made a welcome return.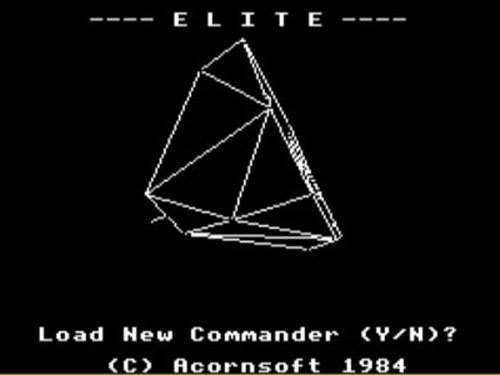 Elite (1984)
BBC Micro, Acorn Electron
As far as interstellar trading goes, Elite is still our top pick. We spent weeks of our lives playing planet-to-planet salesman Commander Jameson, buying and selling minerals, drugs and other commodities around the virtual galaxy.
Although the graphics seem basic now, Elite is still worth picking up as an emulator today if only to see its influence reverberating through gaming history. The Archimedes version was a particular highlight.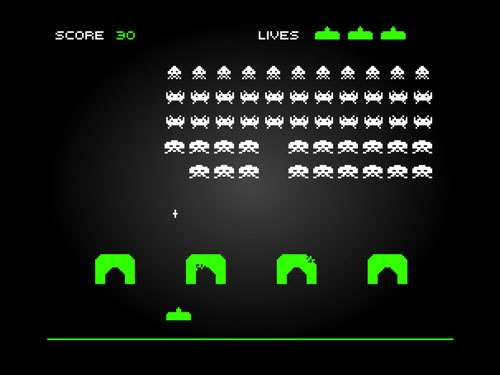 Space Invaders (1978)
Arcade
It's hard to know where to begin with the plaudits for Space Invaders. It thrust gaming from the fringes of geekdom into the beating heart of mainstream culture.
The game's Japanese designer, Tomohiro Nishikado, imported microprocessors from the US to create hardware capable of running Space Invaders. It was well worth the effort, though – shortly after its release, Space Invaders' popularity caused a shortage of ¥100 coins in Japan.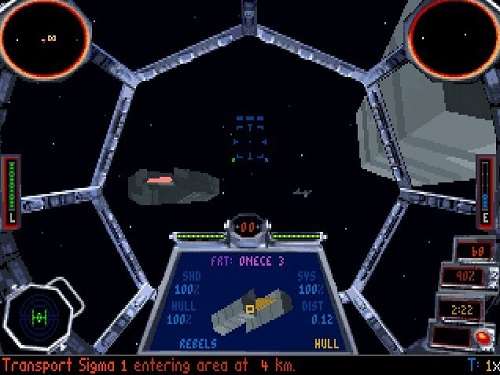 TIE Fighter (1994)
PC (DOS)
X-Wing brought Star Wars to the spaceship combat sim – but it was bettered by its sequel, TIE Fighter. Suddenly, instead of being an upstanding hero of the Rebel Alliance blasting through waves of cannon-fodder enemies, you were the baddie in the flimsy little TIE Fighter.
A brilliant storyline, faithfully-rendered Star Wars spaceships and an awesome soundtrack made TIE Fighter a classic of the genre.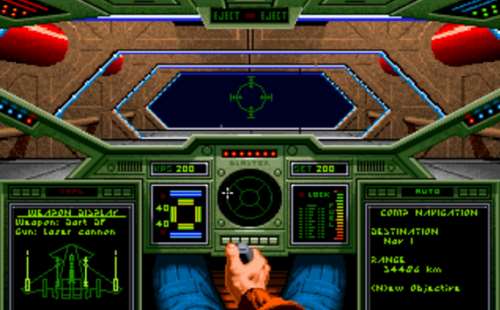 Wing Commander (1990)
PC (DOS)
Chris Roberts turned space sims on their head with this groundbreaking space combat game, which pitted you and the crew of the Tiger's Claw against warlike space moggies the Kilrathi.
Wing Commander's detailed sprites and cockpits, cinematic cutscene animations and branching storyline kept us coming back for more. And it almost certainly influenced later games like X-Wing.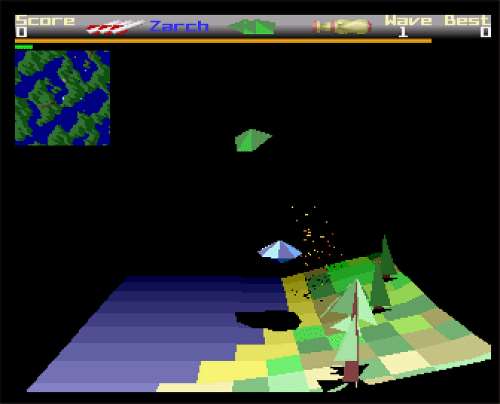 Zarch (1987)
Acorn Archimedes, Atari ST, Amiga, PC
Many a happy hour was wasted playing Lander – the free version of Zarch – on school computers. The gameplay was simple – you pilot a mouse-controlled lander over a 3D landscape, zapping aliens that are trying to infect the Earth with their viruses.
It's the execution that's amazing – it's hard to believe this game, with its 3D graphics and fluid gameplay, was created in 1987.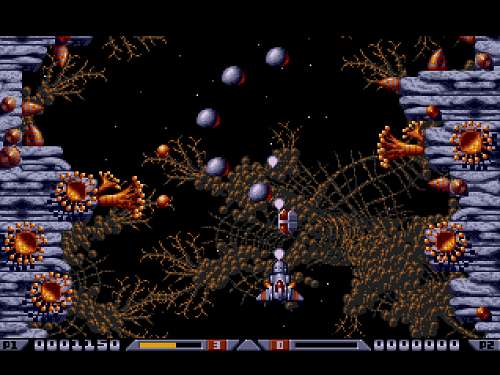 Xenon 2 Megablast (1989)
Amiga, Atari ST, PC, Sega Mega Drive
Okay, the plot was a bit lacking – or non-existent – but in keeping with their image as the rock stars of gaming, The Bitmap Brothers were all about the presentation.
Music from Bomb the Bass scored the adventure as you blasted your way through waves of enemies in slick, gunmetal-grey environments. It was bloody hard, though.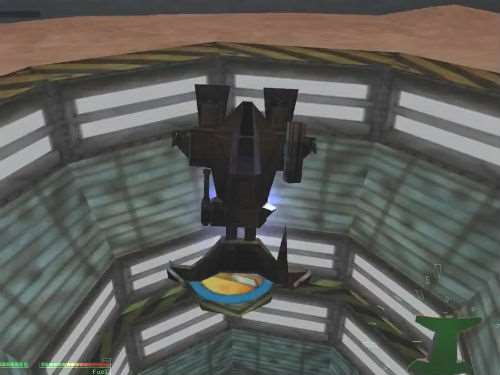 Lander (1999)
PC
Created by Psygnosis (who would later give us WipEout as SCE Studio Liverpool) Lander was famous for its notoriously difficult controls but rewarding for those who mastered them.
Inspired by classic titles like Thrust and Lunar Lander, you take the wheel of a mercernary space craft, taking on missions which involve navigating new planets and collecting cargo. All without losing control and smashing yourself to bits, which would, of course, be rather detrimental to your health.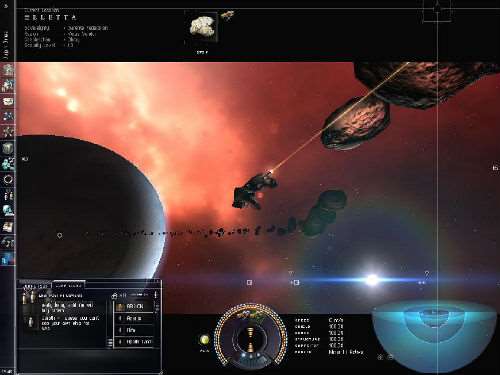 EVE Online (2003)
PC, Mac
Set in a huge single server online galaxy of over 7500 star systems containing moons, planets, wormholes and asteroid belts, EVE Online is an MMORPG which is easily as addictive as World of Warcraft, minus the elves and magic.
Skills in the game can be learned in real time, even if you're not actually playing and players can make a (virtual) fortune in EVE's thriving economy, trading and manufacturing weapons, ships, ammunition and technology with fellow gamers.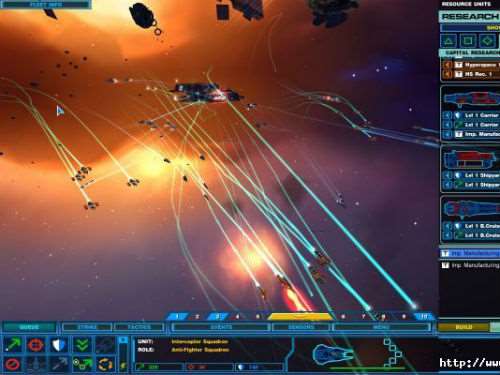 Homeworld (1999)
PC
Homeworld holds the coveted title of being the first real-time strategy (RTS) game to be released in 3D. Both the online and single-play campaigns offer players the chance to play as either the Kushan or Taiidan race, controlling ships in space while dealing with the dangers offered by galactic battles, asteroid clouds and radiation.
With an award-winning soundtrack and multiple Game of the Year awards in the year of its release, Homeworld was a true pioneer in game design and execution.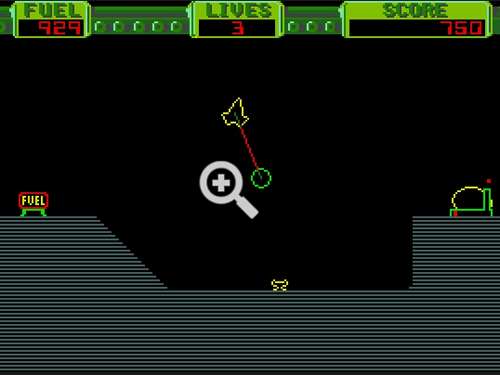 Thrust (1986)
BBC Micron, Acorn Electron, Commodore 64, ZX Spectrum, Amstrad CPC, Atari 8-bit/2600
A world away from the sharp graphics of today's consoles, Thrust's arcade-style game involved controlling a space ship and collecting pods using a tractor beam, taking out enemy turrets on guard and collecting fuel to stay airborne.
The key to Thrust's game play focused on gravity and the weight of your ship. If you didn't take this into account, you failed miserably.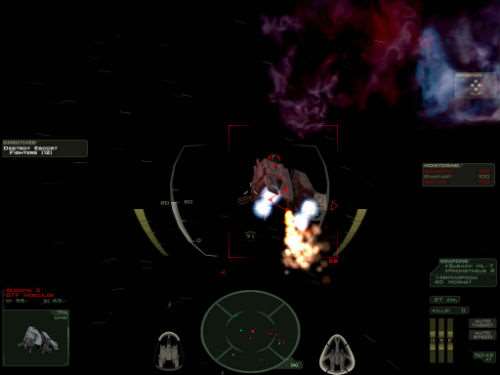 FreeSpace 2 (1999)
PC
Many gamers touted FreeSpace 2 as the definitive simulation game of 1999, with good reason. This sequel to Descent: FreeSpace thrusts players into the driving seat of a fighter pilot as they battle againts a mysterious alien race called the Shivans.
Set entirely in the vastness of space, gamers can opt for single or multiplayer games in which they pit their starships of choice against each other in beam cannon-filled, zero gravity dogfights.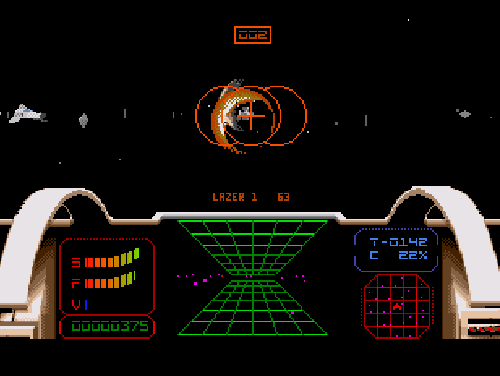 Epic (1992)
Amiga, Atari ST, DOS, NEC PC-9801
Epic is an action-packed 3D shoot 'em up game and one of the best Amiga games ever. Borrowing heavily from Battlestar Galactica and Star Wars, Epic's plot involved the threat to humanity in the form of an imminent supernova. The only escape route was to battle through the territory of the Rexxons, a hostile (and ugly) alien race. The graphics were great for its time, but there were only eight levels to play with.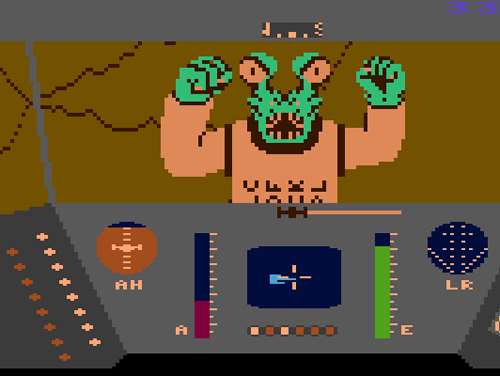 Rescue on Fractalus (1984)
Amstrad CPC, Apple II, Atari 5200, Atari 8-bit, Commodore 64, ZX Spectrum
Rescue a bunch of stranded pilots on the planet of Fractalus and return them safely to the mother ship. Sounds easy, right? Wrong. You were thwarted by the J'hagga Ri Kachatki (better known, thankfully, as Jaggies), who would destroy your ship if you didn't destroy them first, while becoming more aggressive as you progressed.
Apparently (well, according to the internet) Rescue on Fractalus was the first video game to ever truly scare people, but waiting to find out if the 8-bit tape deck would load was probably a whole lot scarier.
Star Wars: Rogue Squadron (1999)
N64, Microsoft Windows
This action shooter was a solitary affair, chronologically built between Empire Strikes Back and Return of the Jedi. Like most old Star Wars games, you assumed the role of Luke Skywalker, which consisted of voiceovers and a small 6-bit rendering of Mark Hamill's face – a feature die-hard fans no doubt appreciated.
Praised for its attention to detail, gamers could play through some of the most iconic moments in Star Wars while completing mission objectives. There was nothing quite so satisfying as taking down an AT-AT and doing a Deathstar tunnel run for the first time.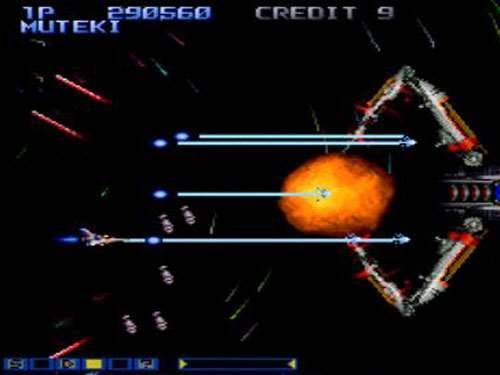 Gradius (1985)
Arcade
Gradius was one of the first, best, and most enduring scrolling shooter games ever made – and it's in space. Konami's introduction to power-ups – Missile, Laser or Double – made it light years ahead of other similarly dated games. And it's lasted, with spin-offs like Parodius still going in 2010.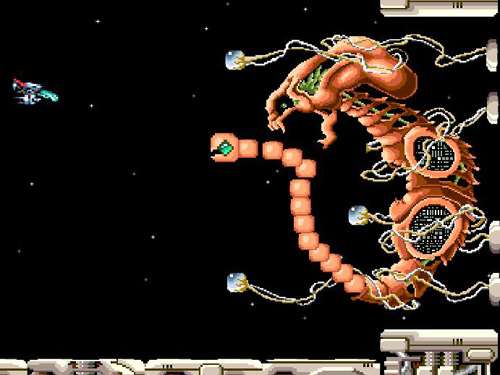 R-Type (1987)
Arcade, Commode 64, Atari ST
Some of the ugliest aliens space had to offer needed destroying from your R-9a Arrowhead space battleship – but they didn't give up easily.
R-Type was one of the hardest games to complete because you needed to find the right route, which meant constant trial and error – read: dying and restarting.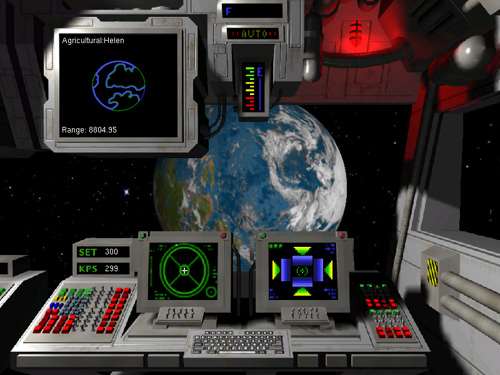 Wing Commander: Privateer (1993)
DOS
Based in the Gemini Sector of the Wing Commander universe, Privateer follows Grayson Burrows who you can play as a mercenary, pirate or merchant.
You get the classic WC view from the cockpit plus the ability to make friends or enemies with anyone you encounter. Privateer still drives nostalgic gamers crazy – there's been lots of fan-made remakes since the original, mainly using the open source space flight sim Vega Strike.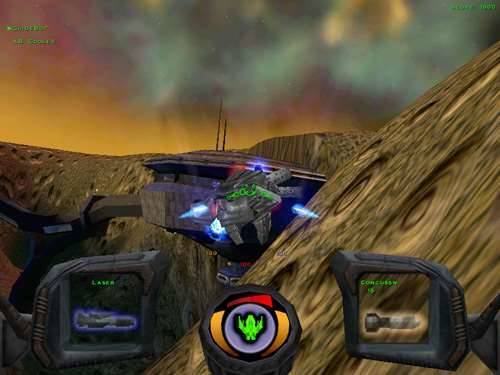 Descent 3 (1999)
Mac OS, Linux, Windows
Introducing first person 3D graphics and six-points of freedom movement. Descent 3 took your mouse-to-keyboard skills to the limit, leaving you feeling woozy from just how free the 3D world was.
If you did grasp the controls the reward of firing missiles and lasers at enemy ships made this one of the most satisfying space shooters about.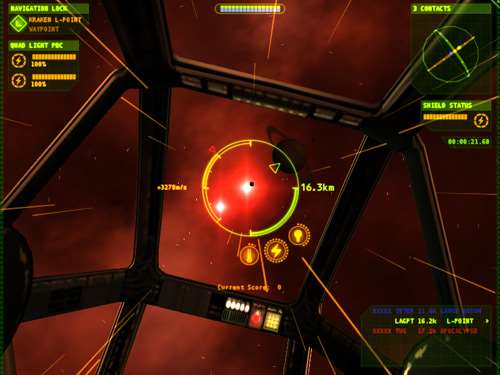 Independence War 2: Edge of Chaos (2001)
Windows
Or Edge of Chaos: Independence Wars 2, as it was curiously renamed for European release. 3D interstellar shoot-outs aside, this sequel to the popular I-War received an interactive BAFTA award for best soundtrack, a rare treat in games of this era.
Guns like the anti-missile turret, which shot at enemy missiles coming for you, were a hugely underrated weapon that we'd like to see back in modern games.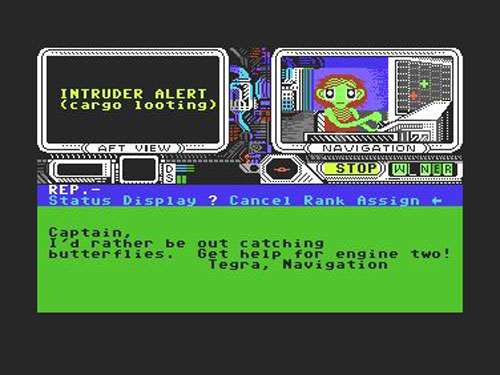 Psi-5 Trading Company (1986)
Commodore 64
One of the best C64 games devs, Accolade, managed to make a game that sounded like an intergalactic corporate meeting into a classic.
Psi-5 Trading Company put you in charge of a trading space vessel where you juggled power, course, repairs, crew and much more in a Football Manager style space mission. Only this one was really hard and demanded lightening fast reactions.