Internode managing director Simon Hackett has driven his Tesla Roadster into the record books, completing 501km on a single electric charge in the 2009 Global Green Challenge
Drawing off previous experience flying gliders competitively , Hackett and co-driver Emilis Prelgauskas steered the world's sportiest electric car to a new land distance record.

The previous record was held by another Roadster in the 387km Rallye Monte Carlo d'Energies Alternatives in April this year. In a race specifically designed for alternative energy vehicles (such as hydrogen and electricty), the Roadster triumped to win honours as the only vehicle to complete the entire course. Though to be fair, that race course was a mixture of twists, turns and hills.
By keeping the car at lower average speeds of around 55km/hr, the Tesla was able to achieve the almost unthinkable for a lithium battery powered speedster.

Not known for its long distance driving feats, the Tesla's official specifications rate it capable of a maximum 392km per charge.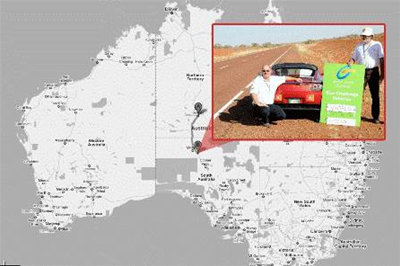 Tesla grabs land distance record for electric car. Image source: Teslamotors
Hackett and Prelgauskas used the long, flat straights offered by the Global Green Challenge course to give the Tesla maxmium mileage after its charging port was sealed by race authorities to ensure against tampering.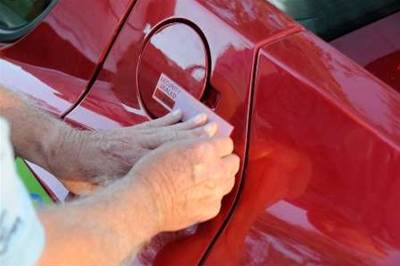 The charge port is sealed by race officials to ensure no sneaky recharges along the course
Internode spokeperson John Harris told
PC Authority
that breaking the record during the Eco Challenge gives the achievement the necessary validity.
The 3000km Eco Challenge pits eco friendly cars against one other in a contest that that is more about energy/fuel efficiency and emissions per 100km, than overall flag honours. Solar cars have also been battling it out on the same course in the Solar Challenge segment of the larger Global Green Challenge.
There are currently 900 Telsa's in existence around the world, with a family sized sedan planned for production in the next couple of years.
You can follow more of Simon Hackett's driving adventures in the Tesla on his official blog here. For more info about the Global Green Challenge or to see more of the amazing cars in the race, be sure to check out our photo gallery.