It's one of the faster wireless services in Australia, but Telstra's new 4G LTE service isn't available everywhere. Find out if you're in the coverage zone.
While the speed claims are bound to be optimistic, Telstra's new LTE service (dubbed 4G by Telstra, though it's debatable whether the service is 4G by technical definition) is a significant shot in the arm for wireless broadband speeds in Australia.
From today, if you're in the coverage zone, Telstra estimates its wireless "USB 4G" dongle plugged into a laptop will give you "typical" download speeds in the range of 2Mbps to 40Mbps. For uploads, the carrier says you can expect somewhere in the range of 1Mbps to 10Mbps.
Also read: Get ready for the 4G hype machine
Wireless is a shared medium, and with the first commercial 1800Mhz LTE services kicking off today, it's yet to be seen what speeds users will experience as the service becomes more popular.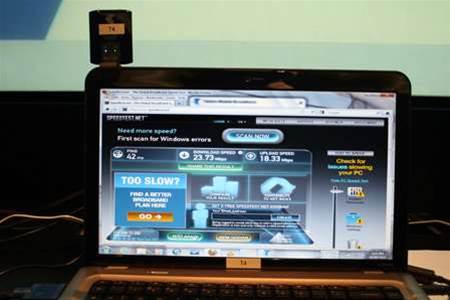 Like Optus, Telstra is wisely avoiding nailing download speeds down to a single number.
What this translates to is a much better experience for bandwidth intensive applications. We had a brief play with an LTE enabled phone (yet to be released) at Telstra's Sydney headquarters this week - high quality YouTube clips began playing almost immediately after selecting them, and we were able to jump to later points in the video with hardly any waiting time.
Telstra also set up seven laptops to simultaneously play HD video streams on the same cell. A full-screen HD video-chat showed that in ideal conditions, the technology can deliver smooth video without jitter. A key advantage is improved latency - ping times of 30-40ms are possible.
The catch is that you won't get the same coverage as you can on 3G. From today, Telstra "4G" LTE is working in capital cities and 31 regional areas, but it's limited to city centres - 5km from the centre in capitals and 3km from the centre in regional areas. It's also available in certain airports.

The above map shows where you'll find Telstra LTE now. The grey pins on the map show where Telstra plans to have coverage by the end of the year. Once outside of LTE area, the modem will switch over to 3G.
If you want to look into your area in more detail, there's a coverage map with greater detail on the Telstra site here.
Telstra predicts it will have "4G" LTE up and running in 80 regional centres by the end of the year. After that, network rollout will depend on demand.
Will it cost me any more?
You''ll pay at least $39.95 for 8GB, depending on your plan and whether you bundle.
The short answer is no, though mobile broadband prices in general are still a pricey way to go if you're a heavy user. Telstra isn't charging any more for its 4G LTE than it does for 3G.
To get Telstra's 4G, you'll need a compatible USB modem - called the BigPond USB 4G for home users, and the Telstra USB 4G for business users.
The BigPond USB 4G for home users costs $0 after rebate on a 24 month plan. For example, $59.95 a month will get you 8GB of data each month. The price drops to $39.95 if bundled with another Telstra service.
For business, the Telstra USB 4G will cost $0 upfront. Plans include a $39 plan, which gets you 4GB per month over 24 months. 8GB costs $49.
The largest download on offer from Telstra is 15GB, which costs $99.95 for home users (or less if you bundle) and $89 for business users.
Telstra's web site specifies no additional usage charges in Australia for home users, but there are excess usage fees for Telstra's Mobile Broadband Business Standard Plans.
Can I get 4G on my phone?
YouTube on the yet-to-be-released "HTC 4G" phone.
For now, the USB 4G dongle is the only way you can get Telstra's 4G, with compatible phones and tablets on the way. The first compatible phone will be an HTC model, to which Telstra is referring to as by a codename for now: the "HTC 4G".
The screen on this HTC phone is a very big 4.5in. the phone will be dual core, and will have an 8Mp camera. This phone will be available in the first half of 2012.
Telstra also expects to have at least one compatible tablet available in the first half of 2012.
Also read: Get ready for the 4G hype machine