Sony's Alpha a55 is forced to move aside to make way for its newer, shinier a57 DSLR sibling.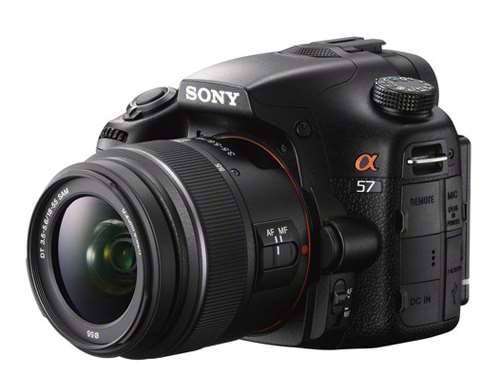 The time has come for Sony's Alpha a55 to step aside and make way for its successor – the Alpha a57. Sony pulled back the covers on its latest Alpha cam – and like its predecessor, the Alpha a57 boasts Sony's translucent mirror tech, enabling it to shoot at pro-level speeds, upping the continuous shooting rate from 10 frames per second to 12.
The Alpha a57's pro-level performance doesn't end there. ISO has been upped to 16,000, it sports a high-res Tru-Finder electronic viewfinder – which Sony claims can rival quality optical finders – and full HD (60fps) video capture. Full HD video can also be captured at a high 50p (progressive) frame rate – something which no other brand currently offers.
The Alpha a57 comes packing a tag-team operation of a 16.1MP Exmor APS HD CMOS sensor and the latest generation BIONZ engine on the market – the same processor found in Sony's flagship Alpha a77 and high-end Alpha a65. That's what allows its ISO sensitivity range to soar so high.
Improvements to its 15-point autofocus system sees enhanced object tracking for ensuring objects and faces stay in sharp focus and quick AF in full HD movie mode to make sure moving objects remain in focus. Sony also claims that the a57 is the first camera to offer auto portrait framing, which picks out the subject's position and trims the scene accordingly.
The camera also sports 2x Clear Image Zoom for a bit of digital zoom action, which works with Sony's "By Pixel Super Resolution Technology" to retain full pixel resolution even after images are cropped and zoomed.
Images can be viewed back on its rear-adjustable 3in Xtra Fine LCD screen and a range of 11 in-camera effects and 15 variations, which can be added to images once they've been snapped, are also on hand for photographic assistance.
Coming complete with an 18-55mm kit zoom lens, the Sony Alpha a57 is due to take on the DSLR using masses come April, priced at US$800. If it's just the body you're after, it'll come with a price tag of around US$700. Australian is pricing is yet to be announced.