We knew CES was big, but Sony's CES display in Las Vegas this week is bordering on the ridiculous. See our photos.
The media got a peek at Sony's stand today, which is jaw droppingly epic in scale. There's OLED TVs so thin you could slice with them, the new Vaio P mini notebook which weighs around 600g, 240HZ Motionflow, LED backlit TVs, and Bravias. . . and lots of them.
We did a quick count, and there is at least 150 Bravia TVs on display, hung on almost every surface of Sony's "stand". This includes some very top of the line, 240Hz Internet connected XBR 9 series Bravias, new Z series models, plus the new V range.
And that's not including the OLED display area, which included at least 10 of the razer thin next-generation screens. More photos of these to come.
And that's just the Sony stand. The Samsung area has 117 LCDs hung in an artistic wingspan configuration – we'll bring you more photos after show opens tomorrow.
Screw the financial crisis: a few of the 150 Bravia's on display at Sony's CES stand at the Las Vegas Convention Center
Another view . . .
Clearly not impressed by the display of raw Hz behind them
Among the units on display is the new top-of-the-line XBR9
So many Bravias, so little time
All these TVs are Internet ready.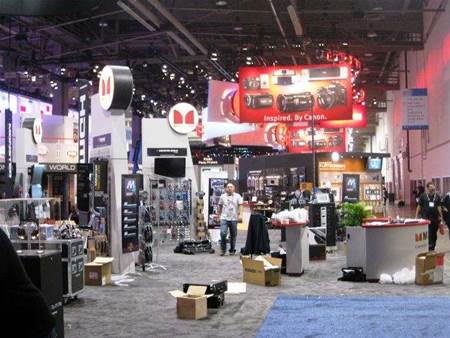 Meanwhile . . . there's more to come. Keep in mind this is a very small area of the CES show floor in Las Vegas. The entire show is spread over two massive convention centers, and numerous other locations