Daniel Long investigates the technology behind world-class multimillion supermaxi racing yachts and why races can be won, lost and lives saved - all thanks to a boom in rugged, tough computers.
Skipper Ludde Ingvall's eyes light up as demonstrates his new Dell rugged tablet PC and proclaims it as the one of the most important developments to happen for sailing in the last twenty years. That's no small call, considering the pedigree of Ingvall's experience and success in world yachting races.

Ingvall guides the 20-tonne Formula-One styled YuuZoo supermaxi against a warm summer's breeze, as a bunch of invited press cling gingerly to the sides of the tilting Yacht.

All 90 feet of the YuuZoo's cutting-edge carbon fibre zips expertly across the blue harbor waters, a world-class boat comfortably at home amongst the picture perfect backdrop of Sydney's sparkling foreshores. For Ingvall, it must feel a world away from the Opera-House sized waves encountered across Bass Strait in previous Sydney to Hobart race campaigns.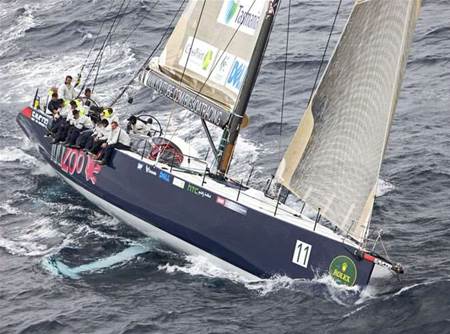 YuuZoo battles the high seas. Photo credit: Daniel Forster, Sail-world.com
YuuZoo, a mobile application company based out of Singapore sponsor the world-class maxi yacht team and it's a fitting dichotomy; a technology company aligning itself with a team of tech-enthused sailors, each of whom appear be sailing confidently (if you pardon the pun) into a new technological era for the industry.

Facebook on the high seas
After winning the Sydney to Hobart race in 2004, the YuuZoo and her winning team are one of the few yachts in the high stakes world of maxi sailing to embrace new technologies and particularly those of social media.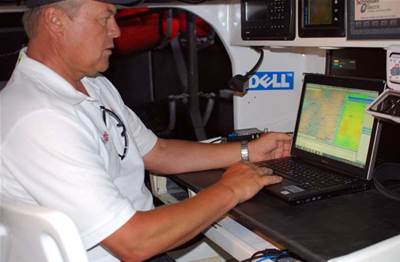 Skipper Ludde Ingvall gives us a closer look at navigation software through the cloud
The crew is armed with an array of portable gadgets including digital cameras, iPods and Dell's new range of tough high performance notebooks. The crew Twitters daily, maintains a popular Facebook page and regularly upload videos to YouTube while at sea.

"We created a digital media project - a platform that allows every member of the team to communicate while they're on the boat, including twittering, blogging and Youtube", explained Ingvall.

And while most land dwellers would be content with a dedicated 8MB/sec upload link to the web, it's even more surprisingly to find it on a racing yacht. A high-speed net connection is vital to maintaining communications during races, and for receiving regular navigation data updates.

For the sailing industry, once romantically idolised for being lovingly low-tech, recent advancements in notebook performance technologies and materials processing (to protect these computers from the elements), has seen life on board become decidedly high-tech.

For sailors, it's not just the stars that are guiding them home, it's computers like Dell's ruggedised Latitude 2100 and the Latitude XT2 XFR.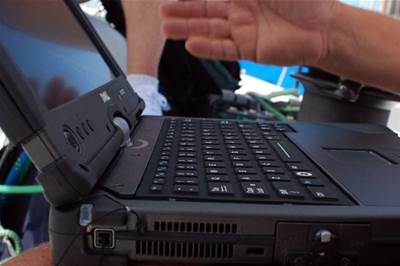 The Dell Latitude XT2 XFR enjoying the outdoor elements
Most of the fancy tech gear resides below deck, but due to the Dell's military-grade ruggedised protective casing, the computers can be taken almost anywhere on the yacht deemed necessary - owing to Dell's new range of splash-proof and shockproof notebooks.
Technology down below
But it's down in the hollows of this carbon fibre sandwich that we find the artificial brains behind the operation, giving Ingvall and his crew an invaluable sixth sense during racing.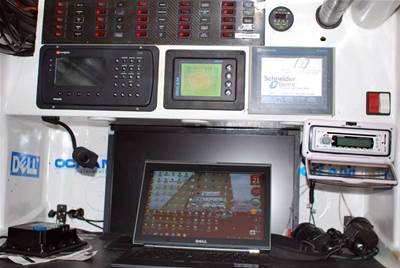 The hull is kitted out with a plethora of communications equipment
The first computer runs a Velocity prediction program (VPP). It's essentially a grid file that projects wind in space and time, using solution algorithms to calculate the resistive force on the hull and its appendages, including the keel, fins and rudder.
A second computer runs a tactical tools program, with wind angles and wind strength projected in 3D. The dell is capable of processing this data, using similar VPP algorithms to project the wind height in time and space - and thereby enabling the YuuZoo to optimise its route to find the shortest time with the least amount of fuel.
According to Ingvall, these systems allow him to continuously to ask the ever-important 'What if?' question. Two rubberised Dell laptops (Latitude 2100) handle the bulk of the yacht's communications, including a GPS system responsible for charting and expedition navigation. One laptop features live weather tracking from satellites and various weather stations.
The YuuZoo is equipped with a 3G connection, Iridium Satellite System for voice and data transmissions, an SBB for back-up communications, VHF radio and a standard C Satellite for telex and fax.

Dealing with free time
Over the course of a standard 3 day trip (about the length of a Sydney to Hobart race for the crew), each crew member is expected to perform a 6 hour stint on deck, with 3 hours off on a continuous rotating basis. The downtime for crew members gives them time to email loved ones, call home and perhaps update their Facebook status to something like; "Enjoying 30 feet high waves in Bass Strait".
With crucial changes to tactics and race strategy evolving over the years, Ingvall is keen to point out the safety impacts of his new found interest in military spec tough computing.
To demonstrate, Ingvall holds the Dell up to the harsh sunlight reflecting off the white carbon surfaces and even then, the touchscreen is still perfectly legible. Splashproof and shockproof, the Dell XT2 XFR is perfect for the many bumps and seawater spray bombarding the crew, a use that has made the XFR a popular choice with emergency services around the world.

And although Dell isn't the first company to pursue the tough computing sector (Panasonic have been leaders in the field for a while now), Ingvall says he tested the Dell against the Panasonic and found the Dell was much better for processing power, important when you consider the amount of raw data which needs to be crunched on a hourly basis in order to keep the $7million yacht from seeing harm.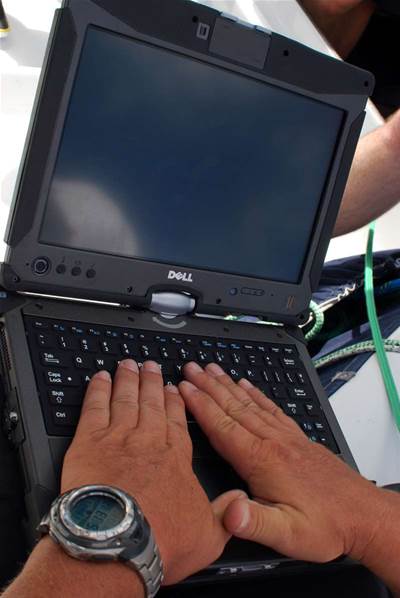 Hands on with the Dell Lattitude XT2 XFR
Indeed, on-board computers now play an important part in navigation communications, making all the difference between running aground in rocky reefs and keeping well away from those obstacles during night sailing.

Travelling at 30 knots or almost 60km/hr, traditional GPS and depth sounders provide limited assistance to supermaxi's like the YuuZoo. It's little help knowing what's underneath the hull when you're travelling at almost 60km/hr and quickly gliding over it.
While at first glance, Ingvall may seem like an old-school sailor, he's clearly found a new passion in embracing these new technologies, the type of which he is certain can save lives at sea.

'The most important part is keep to safe. We live in a world where our lives are dependent on our team. Complete dependency and trust".
Ingvall enjoying his Dell Latitude XT2 XFR
Dell's Latitude XT2 XRF is due to be released in Australia in February.