The first Qualcomm 835-based laptops are unveiled, offering gigabit 4G connectivity and stunning battery life.
Microsoft's Terry Myerson joined Asus, HP and Qualcomm executives on stage at the Qualcomm Technology Summit to unveil the first Always on PCs - Windows 10 laptops based on the Qualcomm 835 chipset, with a promised week of battery life.
Calling the machines "next wave in innovation" Myserson extolled the virtues of this new wave of laptops, which he said would also offer always-on connectivity, fanless operation and "better security".
"It's not a matter of if, but when all PCs will become Always Connected PCs," said Myerson.
Devices
Following Myserson on stage to put meat on the bones of the announcement, was Asus' Jerry Shen, announcing the Asus NovaGo - an ultraportable 2-in-1 convertible laptop running Windows 10.
The NovaGo will have a 4X4 MIMO antenna array for high-speed, Gigabit-class 4G connectivity and will have up to 256GB of UFS 2.0 storage and 8GB of RAM.
The laptop will run the Qualcomm Snapdragon 835 chipset and, in the most exciting of developments, battery life is promised to be huge. Shen said the Asus NovaGo would deliver up to 22-hour video playback (currently, most Intel-based laptops struggle to get past ten hours) and up to 30-day standby time. That should easily be enough to get you through a day of work without having to top up your battery at the mains.
Impressively, though, unlike the rest of the laptop and smartphone industry, the prices of these new machines will be very reasonable. No Australian prices were announced at the conference but a US price of $US599 for the model with 4GB of RAM and 64GB of storage and $US799 for the model with 8GB of RAM and 256GB look very reasonable indeed.
Next, it was the turn of HP's Kevin Frost, who also unveiled a Snapdragon 835-powered Windows 10 laptop at the event: the HP Envy x2. The Envy x2 is, like the Microsoft Surface Pro, a 2-in-1 detachable with a removable keyboard cover with built in hinge, measuring 6.9mm thin, and promising 20-hour battery life.
The HP Envy x2 will be available from Spring 2018 with no word yet as to pricing, but it looks like a promising device. It has a 12.3in touchscreen, topped with Gorilla Glass 4, pressure-sensitive stylus support and, once again, a Snapdragon X16 modem for gigabit 4G connectivity.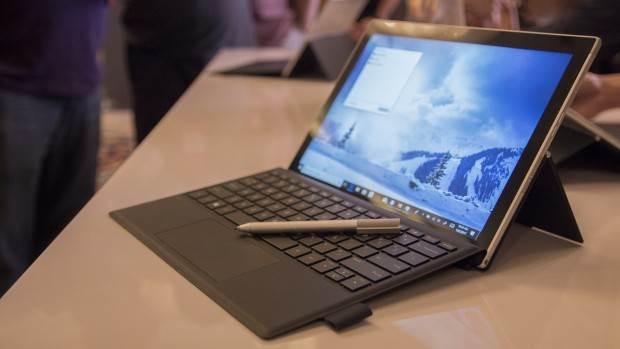 Qualcomm Snapdragon 845 confirmed
Qualcomm also confirmed that the Snapdragon 845 will be the chipset to power the next generation of flagship smartphones in 2018, but aside from vague promises about improved camera technology and greater efficiency, no details have yet been revealed.
We expect further details to head the bill at tomorrows Qualcomm Tech Summit keynote, but for now we have no further information on the chip, other than it will be manufacturered by Samsung, just like the Snapdragon 835.