Fifty thousand people used to live in this city. Now it's a ghost town...
Call of Duty was, once upon a time and before its current sentence as a yearly episodic blockbuster, far more interested in innovation and surprise than sales and competition. Its origins are more humble than they seem.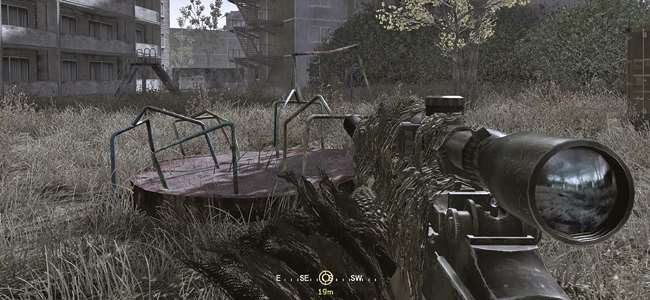 Call of Duty was, once upon a time and before its current sentence as a yearly episodic blockbuster, far more interested in innovation and surprise than sales and competition. Its origins are more humble than they seem.
The first Modern Warfare installment – made despite Activision's wishes for another World War II game – contains one of the most captivating narratives in a first-person shooter. And with good reason, given it was one of the first mainstream titles to be brave enough to kill off its main character in the middle of a mission, while at the same time making a curious anti-war statement which has since been diluted in ongoing installments.
Everything about the title is calculated, which makes its radioactive wasteland of Pripyat all the more striking. Of the radiation-happy games made during the past generation, including Stalker and Metro 2033, it seems odd, now, that Call of Duty would take such purist approach to architecture and real-world design. For a series which wasn't so hung up on details, (the sequel used the wrong language in its Pakistan-themed levels, for instance), the team working on Pripyat spent an intense amount of time and detail recreating the city itself, studying building design and architecture to make sure the abandoned city comes alive.
Perhaps this is why the level is so often remembered as one of the best in the series, let alone the game itself. From the moment the player awakens in the tall grass, there is already a sense something is very, very wrong – and it isn't just the realisation the mission is the series' first narrative flashback. The player has no idea what's happening.
This is already a fascinating choice. The previous two Call of Duty games had characters and stories, yes, but they were vignettes – jumping from mission to mission as a type of interactive history lesson. A flashback is used in story to deepen a narrative and create cohesive fiction. For Call of Duty to use one is akin to saying it's more interested in telling a story than it is in mowing down enemy after enemy after enemy. At least, for half an hour or so.
This realisation is heightened by an eerie sense of isolation. You're given small choices, sure – take out the guy on the left or the guy on the right. But it's
nothing major. It's no small decision your player is disguised in camouflage from head to toe – unlike some of the later installments, you get the feeling here you're part of the scenery than an active driver of the narrative.
It's hardly the multiple choice stealth activity you see in something like Splinter Cell, but it's a welcome change of pace. And a strange one. It's also what makes the player feel so uneasy. There are some faceless enemies to mow down, but you spend far more of your time walking through scenery than killing, and you're even advised to avoid enemies at specific points.
Pripyat takes a step further when it starts actually commenting on the real-world tragedy. At various stages your superior notes your surroundings and comments on them – about how the city was once alive, bustling, but is now just a ghost town. It's easy to think of this commentary as contrived, especially considering how the series has become more interested in spectacle than an attempt at nuanced commentary. But Call of Duty was once more concerned with portraying the horror of war than its appeal as an emotional roller coaster – the "death quotes" were once seen as serious reflection than their current role as unfortunate irony.
Pripyat isn't only a melancholy tour of tragedy – it's an invitation to reflect on the horrors of nuclear catastrophe. (An issue this game is particularly concerned with exploring.)Painted with dull greens, greys and browns before the "mud" palette became popular in the modern FPS, everything in Pripyat seems to blend together into one, but at the same time, remains distinguished from the world around it. The swimming pool and various empty buildings stand out as an empty reminder of what came before – there is a real, palatable sense of weight in stepping on what is essentially a mass grave.
This is once again heightened by the fact the game is trying to kill you. The very first words you hear are "too much radiation – we'll have to go around", followed by a warning to avoid the radioactive areas.
Pripyat is more than an entertaining diversion – it's almost a reflection of what's happened to the Call of Duty series itself. What was once a thriving, bustling metroplex of tight design and ingenuity created a focused experience. Now, while it may have more players, sales and influence than ever – and no one could accuse its mechanics of becoming sloppy - it's merely a shell of what it once was.
Could there be anything as influential and exciting such as Pripyat in a modern Call of Duty game? Doubtful. Instead, we have a dog who eats bullets for breakfast and takes down helicopters.
Activision recently announced it would give each studio in the COD team three years to develop each game. If the company is worried, perhaps it should take a leap back into a radioactive-fuelled wasteland for inspiration.
>> PATRICK STAFFORD is a journalist who took way too long to shoot Zakhaev with the big gun.