We might be the lucky country, but sometimes we lack the ability to invest in the bigger picture. Mobile free-to-air TV could offer many benefits, so why don't we have it yet?
It sounds easy enough in theory: you take out your phone while waiting for the bus to arrive and start watching your favourite TV show. Im theory, it shouldn't cost you anything.

However, apart from Mobile Foxtel and a truncated TV service avaliable through Vodafone, Australians don't appear to be any closer to mobile digital free-to-air television just yet.
Australians aren't the only ones waiting for mobile DTV. Outside of the 3D TV hype at the 2010 CES, mobile digital TV devices were one of the more interesting announcements made at the show by LG. For the last decade now, competing North American government groups have repeatedly squabbled over how the signal would best be delivered and what to do about the mobile phone batteries, which run down quickly because of the power needed to receive mobile transmissions.


A Nokia N77 demonstrates the ability to pick up mobile DTV signals
In the US, mobile TV is still just a twinkle in broadcaster's eyes, even though
Rupert Murdoch has shown considerable interest
in its future development and applications. But so far, only
21 TV stations are presently being broadcast in the US
to mobile phones and many of those are only local community stations.
The FCC chose the ATSC standard, even though much of the rest of the world already uses the alternative COFDM standard. A report at Broadcast Engineering is critical of the ATSC standard, calling it extremely difficult to implement in phones and prone to poor reception.
Surprisingly, India was the first country in the world to broadcast mobile DTC signals in 2005 using another alternative: Digital Multimedia Broadcasting technology. Strangely enough, UK Telco BT launched and later abandoned mobile DTV in 2006, leaving Japan and South Korea to dominate the space, where mobile DTV is watched by millions of commuters on a daily basis.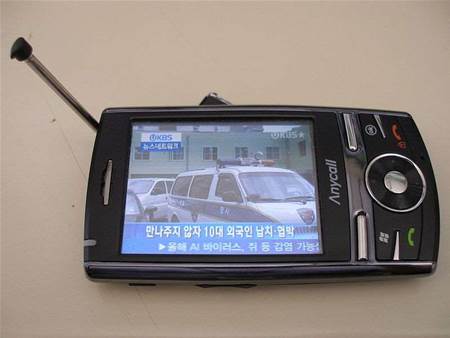 A South Korean handset showing off mobile DTV
In Japan,
1seg is the largest provider of mobile DTV
to the population and a similar 1seg service is now also available in Peru and Brazil. A
variety of mobile devices
are available for the 1seg service in Japan including a PSP-2000 tuner, a Sanyo GPS unit and even the Nintendo DS.
Most phones sold in Japan today are 1seg compatible and include in-built subtitles and broadcast at 15 frames/second. But according to some, the phones are becoming
complicated
to use.
Considering we can't get people to shift to regular DTV en-masse yet, it's hard to see mobile DTV being a huge priority right now. Trials have been conducted, including the use of Nokia DVB-H capable handsets. In January 2009, a trial included video from Seven, ABC1, Fox Sports, and Sky News Business. Still, so far we're yet to hear of any major developments.

At CES this year we spotted several mobile DTV demonstrations. See our story here about phone features to look out for in 2010.