We've packed the latest issue of PC Authority with a massive 101 desirable tech gift ideas including DSLRs, home theatre, sport, and Xbox, PlayStation and Wii accessories. Plus, get your free antivirus protection on the cover DVD
The December 2009 issue of PC Authority is on sale now at your local newsagent. It's our biggest issue of the year, and includes:

101 Christmas Gift Ideas!


Toys, sport, games home theatre - we've packed our biggest and most exciting Christmas guide ever, full to bursting with fun, useful, and utterly desirable tech. There's cameras and accessories for photographers, the latest equipment for setting up a home theatre, PC gaming gear, iPod docks, music phones, and Xbox, PlayStation and Wii accessories, including the PlayStation EyePet.
14 Big Brand Laptops


In our October issue we brought you our massive netbooks test - now we've followed it up by expanding the scope to a broad range of prices and styles. Looking for a more powerful system to go with that cheap and cheerful netbook? And we've put all-round laptops, and business systems on the testbench too. From $999 to $2,499, pick the portable that's right for you.
Best 24in Monitors


If you haven't set up your desktop with two LCD monitors, then now's the time. Not only do you get double the amount of screen space, you can run work apps on one screen and Facebook and (heaven forbid) World of Warcraft on the other. Plus it just looks more impressive. We've tested seven of the latest big screen monitors for work and play, and tell you which provide the best blend of value, features and quality.

Windows 7 - collectable walkthroughs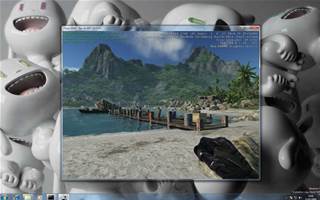 Continue collecting our advanced guide to Windows 7, with this month's walkthrough for using new search features, and the touchscreen.
Greatest Tech U-Turns


Remember HD-DVD? Remember Apple Clones? Step back in time in this feature that looks at some of the biggest statements, positions and promises that big companies like Microsoft, Apple, Google, and Dell would rather forget.
On the disc: ESET NOD32 Antivirus 4 - FULL VERSION - 6 month license


Snaffle this month's cover disc, because it contains a full 6-month version of the highly regarded ESET NOD32 Antivirus 4. Protect your PC with this fast, efficient virus and spyware detection that doesn't get in your way. (Valid until June 2010)
On the disc: PC Tools File Recover 7.5 - FULL VERSION - 12 month license


Lets you salvage accidentally deleted files. Works around bad sector disk areas. Securely delete files.
On the disc: LogMeIn Pro2 - Extended 3 month trial


See and control your home or work PC from anywhere in the world. Listen to your MP3s from anywhere. Share huge files without sending emails. (reverts to LogMeIn Free after 3 months)
On the disc: Need for Speed: Shift


Get racing in one of five different cars in the new playable demo.
And lots more, including our review of ATI's new Radeon HD 5870, the HTC Hero and Blackberry Curve 8520, the Dell Adamo and Vaio X Series and more...