High-profile short films from around the world are now getting made on DSLR cameras, thanks to rapidly improving sensors and prices. Judge for yourself, with these five videos made with the Canon EOS 5D Mark II.
Ever since George Lucas picked up a CGI paintbrush during production of the Star Wars sequels and declared that the future was digital, Hollywood and a new wave of digital disciples were more than happy to proclaim the imminent death of film.

But they were wrong.

Not only did film continue to dominate in the time since the Phantom Menace was released, but the resulting digital productions were often criticised for appearing flat, lifeless and unable to mimic the vibrancy of film stock.
Early digital cinematographers working in the format experienced numerous problems working with dynamic range - as older digital cameras had less exposure latitude and a tendency to blow out "highlights".

But with improvements in digital technology, larger and more expensive digital cameras like the Panasonic Genesis, Sony HDCAM and Thomson Viper quickly became the cameras of choice for big budget effects productions. But it wasn't until the development of the RED camera that digital was would gain its strongest footing in the market.
RED vs. Canon 5D Mark II

The RED has provided affordable (depending on your definition) digital images at 4k, offering filmic comparisons with traditional celluloid and at a price not seen in the age of film or digital.
The RED camera: Big budget special effects movies such as Wanted (Angelina Jolie) are now experimenting with the RED
Big budget special effects movies such as Wanted (Angelina Jolie) were now experimenting with the RED, though even so - the RED is still seen as a 'prosumer' product and retails at prices in the high $US17500 for the basic body (lenses cost much more), putting it out of the reach of the average camera enthusiasts.
But it wasn't until 2008 and the resulting improvements in DSLR technology, that image sensors would be advanced enough to produce world-beating high definition images under $US5,000. And while Canon weren't the first to offer HD in a DSLR (that honour goes to Nikon), it was their EOS 5D Mark II that would provide the industry with its biggest game-changer.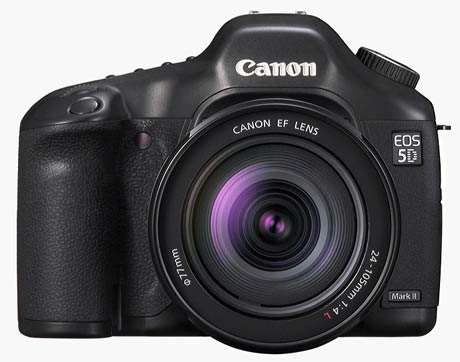 The Canon EOS 5D Mark II is changing the way people shoot video - thanks to quality lenses and a big CMOS sensor
The EOS 5D Mark II is a reasonably priced DSLR that takes excellent stills, and excellent video footage - the quality is being compared by some to the RED (technically and aesthetically) and gives dramatic results in low light, with strong comparisons to film stock.

DSLR drawbacks

Like any CMOS type sensor, rolling shutter effects (skewing, wobbling and strobing caused by the way the image is scanned) continue to be a worry for some DSLR cinematographers; another snag in creating flawless video images. Thankfully, recent firmware updates seem to be tackling the issue.

Similarly, problems with manual focus on the DSLR have also received a great deal of attention - and firmware updates are correcting this too.
The footage: 5 examples shot with the Canon EOS 5D Mark II
A number of high profile directors around the globe are pushing what's possible with a handheld DSLR. Currently, these include a mix of commercials and short films - with plans to even shoot a war documentary on a DSLR.
Notable short films:

Reverie: The film that proved what was possible on a DSLR was also the first EOS 5D Mark II short ever made in the United States, using a preproduction camera donated by Canon. The filmmakers used over 13 lenses to show off the different lighting effects made possible by the camera. The resulting short instantly became a worldwide phenomena among camera enthusiasts.


Since the film was released, Director Vincent LaForet has received numerous offers to shoot many other project. More information about the shoot can be found here.
The Trainer: From Clayton Jacobson, director of the Australian hit film Kenny, comes Australia's first professional Canon EOS 5D Mark II short. Sponsored by Canon to show just how useful the camera can be in the hands of a film professional, Jacobson was apparantly impressed with the camera's much talked-about low light abilities (which can also be seen in the night scenes in Vincent LaForet's Reverie).



Jacobson's short stars his real life father who runs a boxing gym. It's a stylish piece of filmmaking with a personal touch. Jacobson praised the camera for its size and lightweight body - a huge plus for filmmakers who want to travel and shoot films all around the world.
Cinematographer Peter Falk, ACS used a number of prime lenses with low F-stops to give the night scenes in the shoot added light and detail. Soft focus effects were captured in camera using tilt and shift lenses. The full equipment list used by Jacobson for the production is listed here by Canon (pdf).

Notable commercials:
Windows 7: When Microsoft commissioned a series of Windows 7 commercials for the operating system launch, we would never have predicted it would be shot on a DSLR. But it was all done thanks to Marty Martin, who shot the ads with an EOS 5D Mark II and edited it in Final Cut Pro. A Mattebox was also used to achieve the dreamy visuals used in several of the sequences.


Amateur short
Mmm Dorito: Brad Halstead's short was entered for a Doritos make-your-own-commercial competition. The short failed to make it to the top 50 entrants, though it does show off a certain film-like clarity that the EOS 5D Mark II is now so famous for.



Halstead fashioned a custom-made rig to house the camera and used an old wheelchair for a dolly. A simple, yet effective piece of filmmaking.
Notable feature films
This is the category to watch - not because it has produced so much, but because it has produced so little. We're betting there are already teams of filmmakers gearing up to take advantage of this filmaking technology, especially given the cost advantages compared with renting a traditional digital or film rental package.
Not surprisingly, given the portability and lightness of a DSLR - it's also perfectly suited to documentary work and for that matter - a war zone.
Battle for Hearts and Minds
Danfung Dennis directs the world's first DSLR-made documentary on the Canon EOS 5D Mark II. Based on trailer footage, the film appears compelling and the end product looks like something filmed on a modern film camera.



Danfung was stationed with Echo Company of the 2nd Battalion, 8th Marine Company in Afghanistan and shot footage of the soldiers under enemy fire.

The film was shot on a custom camera rig, using a variety of lenses that include 24-70 f/2.8 L, Sennheiser ME-66 and G2 wireless system (for sound) and Singh-Ray variable ND filters to reduce the bright desert glare.

It will be interesting to watch how many other filmmakers take Danfung's approach and utilise the EOS 5D Mark II for other war-time productions.
Also see our series: Stepping up to a DSLR camera