Moto's next RAZR looks set to add a slide-out keyboard to its list of impressive specs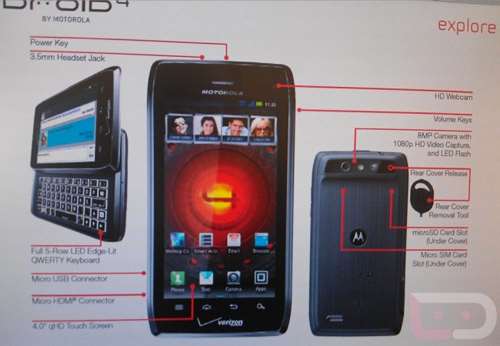 Leaked specs of the RAZR's QWERTY-friendly sibling have found their way to Moto news site Droid Life and the new model could be hitting the US as soon as December 8th. The specs of the Droid 4, as it's being called in America, are almost exactly the same as the Motorola RAZR except for the slightly smaller 4in qHD screen and the edge-lit, slide-out QWERTY keyboard.
So that means we're looking at the same 1.2GHz dual-core processor, similar Kevlar styling, 8MP camera with 1080p video capture and Android Gingerbread – expected to be updated to Ice Cream Sandwich in early 2012. While American QWERTY fans can look forward to the Droid 4 in a week or so, we're hoping Motorola won't drag its heels when it comes to an Australian release. We'll update you with release and pricing details when we get hold of them.