The LG Arena takes much of its styling from the Apple iPhone, and isn't ashamed to flaunt its obvious similarities. We got a closer look at the LG Arena and put it to our iPhone comparison test.
By now, we've become quite accustomed to newly released touch phones looking a
little
like the Apple iPhone. Sure, there have been outright copycats to the point of derision, including the bizarrely named
Lenovo Ophone
(or better known as the Oooooophone), but very few have actually delivered on a phone that might actually sit side by side with the iPhone and command respect.
Whilst Android suffer from a lack of handsets, carriers and early software bugs, the LG Arena will be carried on Vodafone (out now), Optus next month and Telstra later in the year, according to LG reps under its very own OS. The Arena is seeking a slice of the iPhone pie by pretending in some respects to be a sleeker looking iPhone.
After our brief play with the phone today, we feel this might actually be the first phone to truly turn customers away from Apple. But there's a few things you should know about before you take the plunge and hand over your hard earned $799 (pre-paid).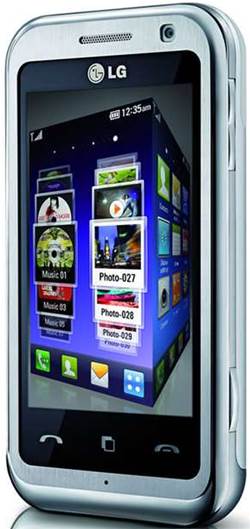 How they compare: iPhone vs. LG Arena
Dimensions: The Arena feels much smaller at 105.9 x 55.3 x 12 mm than the iPhone's larger 115.5 x 62.1 x 12.3mm unit. Some will prefer the bigger size, others may like the Arena's smaller form factor for convienience.
Screen size: The Arena's 3" screen feels a great deal smaller than the phone's 3.5" display (that half inch tends to makes all the difference). The buttons are tricker to touch as a result of this size saving. However, the Arena's 480 x 800 pixel count makes good use of 3D menus and video playback, as compared to the iPhone's lesser 480 x 320 display. The Arena boasts WVGA quality, with sharper quality than almost any phone we've seen before.
Weight: The Arena is definitely lighter (105g) and more pocket-friendly than the slightly chunkier iPhone (133g).
Menus/ Navigation: Based on a 'cubist' theme, the touch screen responded well and the menu's had flair. But the iPhone is still easier to navigate.
Unusual function - Dolby sound? The Arena does throw up a couple of hidden, if unexpected surprises. The Arena offers Dolby Mobile, a world's first for a mobile and an unusual, if quirky function for such a tiny device. We couldn't judge the audio quality too heavily using the supplied headphones in our test, although the bass and trebles were noticeably richer for mobile playback. A 3.5mm jack is already a leg up on Apple's annoying earphone jack.
Video functions: The Arena can play DivX encoded films on your 42" plasma without it appearing too grainy or pixelated. A decent video-out cable/plug makes this very easy to do on the Arena.
Camera: The Arena's 5.0MP (2592 x 1944) camera kicks the lousy 2.0MP offering on the iPhone. You can even shoot video up to 120 frames a second using the Arena. We'd like to see the iPhone try that.
Additional functions: The Arena features Bluetooth, WiFi, assisted GPS, 7.2 HSDPA and FM tuner. Arena beats iPhone here for the inclusion of an FM tuner.
Battery life: The Arena is the definite winner here. 30 hours of MP3 listening action and 6 - 8 hours of video watching easily beats the iPhone. Even better, a simple removable (and cheap to replace) Lithium battery makes us wonder why Apple continue to make battery changes so difficult and tiresome.
Middle of the road: The Arena's tricky menu functions do not let you go 'back' to your last selected imput. Based on its cubist rotating menus, users are forced to rotate back and forth until they find the menu mode they desire. A more intuitive back button would have been nice, but it's only a minor gripe. Stick to the iPhone here.
Epic fail: No apps/app store. LG's sparkling proprietary flash based OS is let down by a non-app support model. If you're going to be the next iPhone killer, you'd sure as heck want to have a nifty app-store ready and raring to go. The LG doesn't and it's a massive letdown, because it's a sorely missed opportunity.
Awsomeness: Internal memory on the Arena is 8GB built in - but expandable to 32GB with optional microSD (40GB total memory). Although Apple offer both 8GB and 16GB models - you're still much better off with the Arena, because the Apple doesn't even support expandable memory and 32GB is a huge leap ahead for mobile storage.