Going skiing? Capture the action with Oregon Scientific's new 1080p-capable action camcorder
We've enjoyed Oregon Scientific's range of action cameras in the past, and there's now a new addition: the ATC9K Waterproof Action Cam.
Like most current model camcorders, it records in 1080p at 30fps (as well as at 720p in either 30fps or 60fps), and can take stills up to 5 megapixels. There are separate scene modes available for video and stills.
The simple push-button for recording is at the top of the camera, and it's large enough that you should be able to hit it accurately whether you're in a wetsuit, wearing gloves or in heavy ski gear.
As you might expect for an action camcorder, it captures a decently wide field of view (130 degrees), and while the rechargeable battery life isn't huge, it will record at least 1.5hours, which should allow for a broad range of activities to be captured. You may not be able to record a marathon from start to finish, but you could at least capture your City to Surf run.
The camera includes mounts for bike and helmet in the kit ($399). You'll be able to buy a goggle mount, suction cup mount and motorobike handle mount later in the year, separately.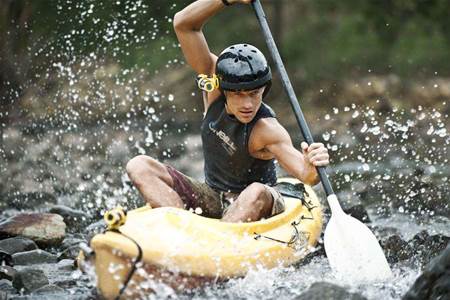 It's a bit chilly to go kayaking, but the helmet mount allows for a wide range of sports capture.
If you're planning to hit the slopes this winter, you may appreciate the ATC9K's built-in G-sensor that will let you track your acceleration as you record your runs.
With an optional GPS plug-in ($79.99), you can view location, acceleration and altitude while you watch the video playback on HMDI.
The built-in microphone and speaker allows recording of environmental sounds (as well as narration) while you're filming.
The camera is also shockproof and waterproof to 20 metres.
It weights just 200 grams, and it's only 10cm long, but the ATC9K records in 1080p.