You can now host a wireless network anywhere you can receive a Telstra NextG signal. Great idea, now about those data plans . . .
We've got a few extra details (and pics) of the new Telstra Next G wireless Gateway that
we reported
on a couple of days ago.
Seeing as though Toshiba already offer a couple of
notebooks
that already include Telstra Next-G, we were very interested to see how the gateway could improve upon the home wireless experience.
The router/modem works with the aid of a Telstra SIM slotted into the USIM card slot at the front of the device.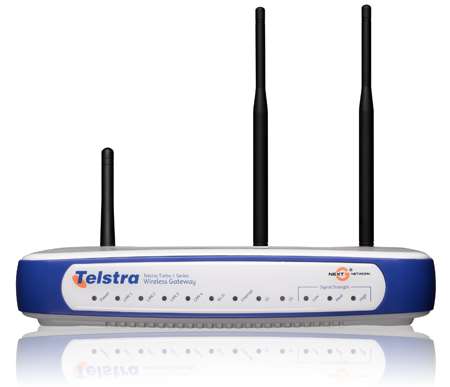 Geeky stuff (specs)
- You can share up to 20 wireless and wired devices, including PCs, PDAs, printers, etc.
- Use one of 4 Ethernet ports for wired devices
- Wireless runs at 54Mbps (802.11g AP – backward compatible with 801.11b)
- Worldwide Tri-band compatible (HSUPA/HSDPA/UMTS)
- Remote admin function
- Config back-up and restoration
Costs and release data info:
- Will retail for $529 (outright) and be available from 25th July.
- Will be eligible for the current Bigpond wireless broadband special offer, (http://my.bigpond.com/special_offers/default.jsp )
- Comes with self install CD for Bigpond customers.
State of the art security features include:
- WEP/WPA/WPA2 data encryption
- SPI firewall
- VPN Pass-through
- MAC address IP filtering
The Gatway is also
upgradable via automatic firmware
upgrades, and the unit is manufactured by
Netcomm
.
The best part?
There's an awful lot of homes (and small businesses) in remote areas around Australia who will finally be given the chance to setup home networks (wired or wireless) using this device. Many homes in regional areas are still not located in traditional ADSL enabled exchanges and some still can't get a traditional phone line connection even for dial up. Those outback roadhouses could potentially be setup as Wifi hotspots for travellers and passing motorists in the future.
What will need to happen to make this a success for home users:
Telstra will need to rethink their current data plans on the 3G network,as they're just far too limited for most users who do more than check email. Most families could easily churn through the highest data plan (3GB) on the NextG network within little time. If Telstra is serious about making this work for everyone around the country, they'll need to rework those
expensive plan prices
and increase the data caps by a much larger chunk.