Crowd photos appearing in an offical Iranian newspaper appear to show uncanny signs of photoshopping
We're not sure, but is this image photoshopped? Doing the rounds online, the pic is leading some sites to wonder if Iran's new weapon in the fight against peaceful protests is not police body armour suits, motorbike riot militias or even DOS attacks on the telecommunication infrastructure. Perhaps it is it much worse that all that. Could it be Photoshop?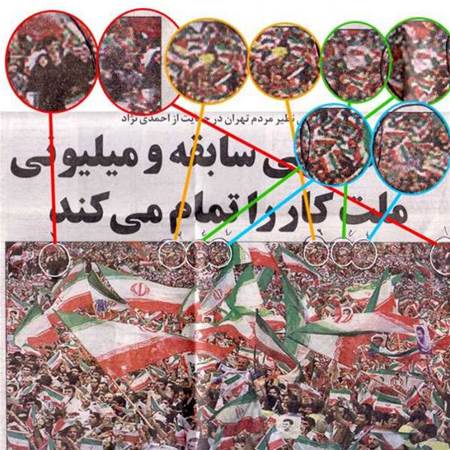 Sections of the crowd appear to be copied in the top area of the photo. Image source: Kheirkhah.
The picture appeared in an official state run Iranian newspaper, Keyhannews. The edited version from the Kheirkhah site above, shows a crowd attending a Pro- Ahmadinejad rally, and appears to show what looks like elements of the crowd copied over several times.

If this image is manipulated, it would seem to be an attempt to bolster support for the ailing President, in the wake of a fiercely disputed election.

This also comes at a time when hundreds of thousands of pro-Mousavi supporters have taken to the streets, marching for change.

While we're not expecting Photoshop lessons to be handed out to foreign governments, we do wish they'd learn from their past mistakes. This isn't the first time the old Photoshop trick has made headlines. And like the last time, the world is onto the trick.

In July last year, Iranian officials were found to have photoshopped a major missile test. What they didn't count on was savvy web citizens (in this case, the New York Times) carefully studying the image to quickly realise that the photograph wasn't what it was supposed to be: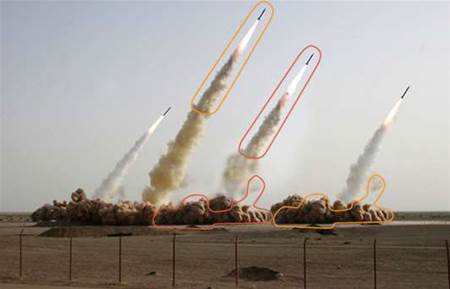 Only two of the missiles appears to be real. Image source: New York Times

Only two of the missiles in the doctored photograph appear to be genuine Shahab 3 missile.

In a TV commercial released in 2004 for former President George Bush, elements of a crowd shot were also found to have been faked, showing the same soldiers to be multiplied.

The campaign sloagn, "Whatever it takes' is plastered across the screen: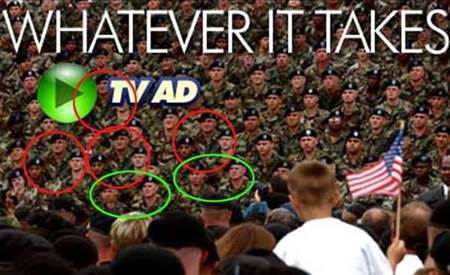 Even the US can't take the hint that photoshopping your crowds is not good a PR tactic. Image source: DailyKos

It's a little eerie, considering the similarities between each of the photoshopped crowd shots. Whatever it takes, indeed.