The new iPad tablet is set to be announced in the US tomorrow. Here's what we know so far.
Apple is set to announce its next iPad tablet in the US tomorrow, putting months of speculation and gossip to rest (until the iPad 4 rumours start, anyway).
Below is a recap of the latest iPad 3 alleged leaks, videos and reports from the past few days. How many of them will turn out to be true? All will be revealed in the wee hours of Thursday morning...
Apple iPad 3 will have an A5X processor?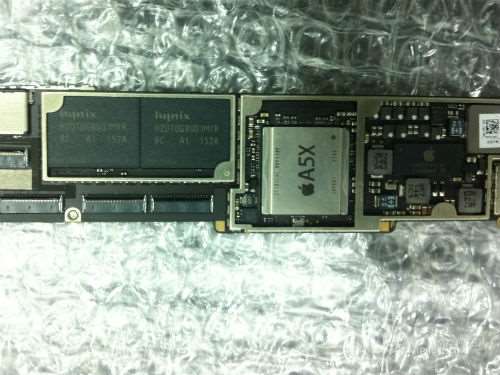 The Apple iPad 3 will officially be announced later today, but that hasn't stopped The Verge from reporting that the iPad 3 will have a souped-up A5X processor as opposed to the long-expected quad-core A6 processor – a rumour that has been fluttering around since last month.
The A5X processor will remain a dual-core offering like its predecessor, but we expect to see an improvement in its graphic-crunching power. The Verge's sources went on to state that Apple will wait to debut its quad-core A6 processor in its iPhone 5 launch, expected later this year.
We were drowning in a sea of quad-core phone and tablet announcements in Barcelona during Mobile World Congress last week, and it would now seem that any of our 5 of the best quad-core gadgets will have an advantage over the iPad 3 in the raw power department.
However, it's important to note that Apple's firm control over both its hardware and software mean that the iPad 3's hardware will be highly optimised for Apple's iOS software and we still expect the iPad 3 to run buttery smooth, handling anything and everything that gadgeteers will throw at it. Still, it may be too hard for some people to ignore the lack of a quad-core processor on the its spec sheet.
iPad 3 to get new Smart Case?
Whether Apple's next slate is called the iPad 3 or the iPad HD, you'll want to protect that precious Retina Display from the depredations of the elements.
While Apple's Smart Cover has done a bang-up job of keeping the iPad 2's screen safe, it's not so hot at protecting the slate's backside. According to iLounge's source, the boffins at Cupertino look set to change that with the iPad 3's Smart Case.
The Smart Case will feature the existing folding magnetised Smart Cover on the front, and a fiberglass and leather shell to shield the back of the iPad 3 – rather like third-party cases such as the InCase Magazine Jacket.
It isn't clear whether the Smart Case will be backwards-compatible with the iPad 2, but given that the iPad 3 is reportedly thicker than its predecessor, it's unlikely.
Bye bye iPad 3, hello iPad HD?
We reported earlier in the week that Apple may be ditching the iPad 3 name, instead calling it the iPad HD – and the evidence seems to be stacking up in favour of the name change.
Two of the usual "unnamed sources" have told tech sites VentureBeat and CNet that the iPad 3 will, in fact, be called the iPad HD, while usage reports from web forum app Tapatalk have corroborated the iPad HD name.
Apple renaming its new slate the iPad HD would be appropriate, considering it'll reportedly sport a 1080p-trouncing 2048x1536 Retina Display. We'll be in a position to confirm or deny the rumours at Apple's launch event for its new iPad later today.
7in iPad outed by Samsung?
Steve Jobs once famously stated that 7in tablets would be "dead on arrival" – but that hasn't stopped rumours of a 7.85in iPad being thrown around.
Now thanks to page nine of a Samsung document obtained by OLED Display, it would appear that Apple has been working on a "7-inch product temporarily referred to as the iPad mini," due for release in the third quarter of this year.
Could Apple unveil an Amazon Kindle Fire-killing tablet alongside the iPad 3 this Wednesday? Quite possibly, but as with all iPad rumours we're taking this with a crateload of salt for the time being.
iPad "caught" on video?
Is this the iPad 3 caught on camera? Tech blog MIC Gadget seem to think so and they've got up close and personal to film each of the supposed iPad 3's parts for us.
Of course, this could just be a ripped apart iPad 2 but the video shows what could be slightly thicker shell – perhaps to house a HD Retina Display, which we've heard rumours of already – and the model does include a home button. There also looks to be a slightly larger camera lens on MIC Gadget's model. Watch the full video below:
iPad 3 already in Apple employees hands?
Apple employees already seem to be using the next iPad, according to Ars Technica. Its website has had over 300 visits from a mythical device with a 2048x1536 screen. Ring any bells?
Last month we reported on an allegedly leaked 2048x1536 iPad 3 retina display which made its rounds on the internet and caused quite a stir as it seemingly confirmed the pixel-packing display that the iPad 3/HD has long been expected to have.
Ars Techinica also discovered that the same mystery device was running iOS 6, a significant step up from the current iOS 5.0.1. This means that Apple could also be showing off its next iOS iteration this Wednesday and could possibly release its new iPad 3 with the shiny new OS straight out of the box.