With a 78% increase in resolution, the HTC Vive Pro is here to take the top spot in premium VR for the home
HTC Vive has taken the fight of resolutions to Oculus Rift with the announcement of a brand-new, 3K VR headset – the HTC Vive Pro.
Boasting a resolution of 2,880 x 1,600 pixels (or a resolution of 1,440 x 1,600-pixels per eye) this is significantly sharper than the original HTC Vive. Designed for VR enthusiasts, the HTC Vive Pro utilises dual OLED displays to ensure high contrast and pin-sharp images with text that's actually readable. Seeing as VR experiences are becoming more complex as developers become comfortable with the medium, this added clarity makes a significant difference on how people perceive and interact with these experiences.
It's a slight shame that HTC Vive hasn't jumped for a meaty 4K resolution, but seeing as even as Nvidia's GTX 1080ti would struggle to push out 4K per eye for VR, it's somewhat sensible to scale ambitions down. Still, if we're looking at 1,440 x 1,600 per eye just two years on from the initial HTC Vive announcement, it won't take too long for 4K to come along.
Aside from the improved screen resolution, the HTC Vive Pro has also had a lick of paint, this time sporting a rather fetching metallic blue finish. Those familiar with the HTC Vive will also notice how there are now two front-facing chaperone cameras, alongside dual microphones with noise cancellation. HTC Vive touts this as empowering more creativity for developers, but it's yet to really show just how they can be utilised.
The HTC Vive Pro also comes equipped with a new head strap that's not too dissimilar from the revamped strap for the HTC Vive.
HTC Vive also announced an optional Wireless Adaptor for both Vive and Vive Pro, allowing you to cut the cord from your headset and go completely wireless. This wireless functionality doesn't impact on quality either, nor does it turn your experiences into something akin to what Facebook is trying to achieve with the Oculus Go.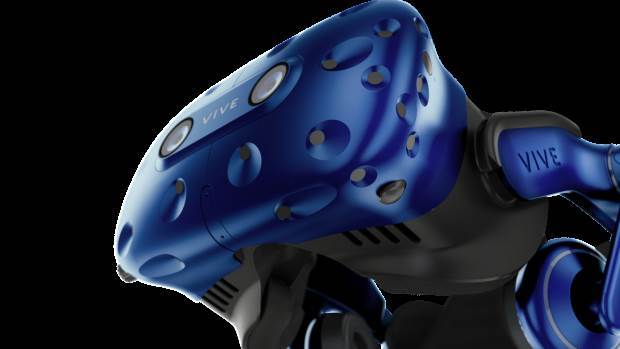 No release date or price has been given for the HTC Vive Pro, but we do know that the Vive Wireless Adaptor will arrive towards the latter half of 2018.
Announced separately to HTC Vive's announcement, Valve also unveiled Steam VR Pro, enabling developers – and soon consumers – to connect up to four Vive baystations to each other. Obviously, the main advantage of this is a larger room-scale environment to explore, but you can also use it to host more Vive headsets (or Steam VR-enabled headsets) in the same space.
We'll be going hands-on with the HTC Vive Pro shortly and will update you with our initial impressions soon.