Have lots of local files you want to stream to your Chromecast from Kodi (formerly XBMC)? Here's how to do it.
Google's Chromecast is excellent for streaming content from your phone, tablet or laptop to TV. But not everything will happily cast its content onto your TV via Google's streamer, such as the popular open-source network media player Kodi – formerly known as XBMC.
Worry not, you can still stream Kodi content to your TV through Chromecast, but the solution is far from elegant.
Here's how you can stream Kodi to Chromecast.
Install and stream Kodi to Chromecast from a phone or tablet:
Before we start, you can't stream Kodi content to Chromecast from an iOS device, so we'll only be talking about Android devices for this method.
There are two ways you can stream content to Chromecast from your Kodi-connected Android device: the long, yet power-friendly way; or the quick, but battery-intensive, route.
The long way:
Download ES File Explorer, Kodi, LocalCast and .xml file PlayerFactoryCore.

Open ES File Explorer, open Settings > Display settings and make sure "Show hidden files" is ticked.

Next, make sure your Kodi or XBMC media centre is connected to the Kodi app

Once done, go into ES File Explorer again and open the Downloads folder

Here you should find the PlayerFactoryCore.xml file you downloaded earlier (if not, navigate to where your downloaded files are saved).

Copy the PlayerFactoryCore.xml file and navigate to Android > Data and look for either "org.xbmc.kodi" or "org.xbmc.xbmc" depending on which streamer you use. Kodi will be "org.xbmc.kodi"

Once open, click through Files > .kodi (or .xbmc, depending which one you've used) > userdata and then paste the PlayerFactoryCore.xml file into this folder.

Open Kodi and navigate to the video file you want to watch.

Kodi will then automatically launch LocalCast – although Android will ask you which casting app you would like to use

Once loaded, you'll be prompted to press "Play" and asked which device you'd like to stream to

You'll then have to click "Play" one more time, and finally it should play on your Chromecast-connected TV.
The short way: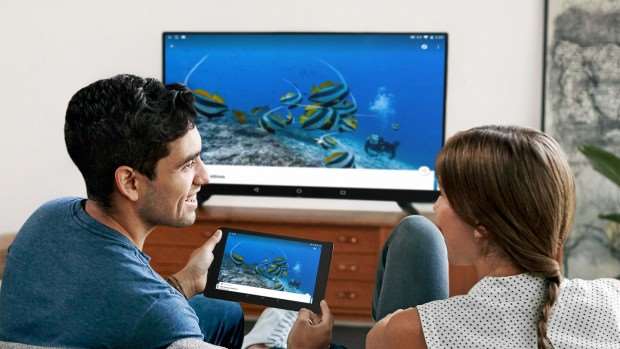 Open Chromecast app on your Android device

Open the menu and select the "Cast screen / audio" option and follow the instructions to connect to your Chromecast

Open Kodi

Find the video you want to watch and press play

It will now play out across both devices, but you can't turn your screen off or take calls.
Install and stream Kodi to Chromecast from a computer:
Streaming Kodi or XBMC content to a Chromecast from a PC isn't as difficult as you may think, but – like streaming Android content – it's far from an elegant solution to your problem.
Download Chrome and the Chromecast app, as well as ensuring you have a Kodi or XBMC client installed on your computer

Install Chrome and its Chromecast casting extension

Open Chrome and select the "Cast" option from your Chromecast extension

Where you see "Cast this tab to…" on the right will be a small down arrow, click it and select "Cast entire screen (experimental)"

Once done, your entire computer desktop should be streaming to your TV

Open Kodi or XBMC and fire up a video to watch