There are Overwatch League skins for all 12 teams, and for all 26 of the game's characters
Now Overwatch League season one has arrived, Blizzard has released a range of Overwatch League skins for in-game players to show their support for the Overwatch League teams.
Available to buy through a new Overwatch League Token scheme, there are Overwatch League skins for all 12 teams, and for all 26 of the game's characters.
In a blog post, Blizzard said: "Time to suit up, heroes! Overwatch League home-team skins are now available in-game. Are you a Los Angeles Gladiators Reaper? A London Spitfire Tracer? Or a San Francisco Shock Zarya? (It's all about that pink-on-orange color scheme.) The choices are endless."
Read on to find out how to get Overwatch League tokens and buy Overwatch League skins.
Overwatch League Skins
The current Overwatch League teams, for which you can buy Overwatch League skins, are:
Boston Uprising
Los Angeles Valiant
Florida Mayhem
Los Angeles Gladiators
New York Excelsior (NYXL)
San Francisco Shock
Seoul Dynasty
Shanghai Dragons
London Spitfire
Philadelphia Fusion
Dallas Fuel
Houston Outlaws
How to get Overwatch League Tokens
Overwatch League tokens were introduced in a recent update, alongside the new Overwatch League tab on the game's main menu.
You'll need to update to the latest version of Overwatch to see this tab appear. If your console isn't configured to automatically update games, go to Settings, Updates and manually upgrade to the latest version. The exact steps will vary based on your console.
1. Once the Overwatch League Tokens tab appears, click it from the main menu:
2. Select which team, and then which character, you want to buy an Overwatch League skin for: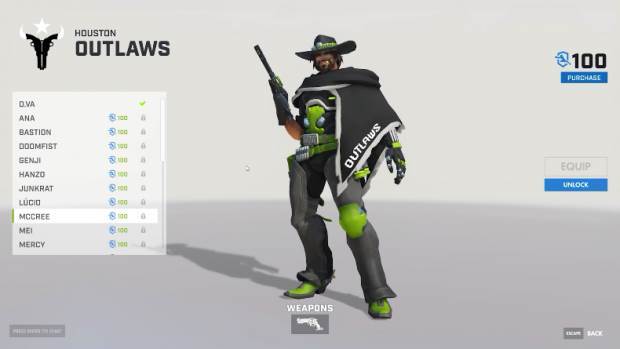 3. Click Purchase (in the top right-hand corner of the screen). If you've not bought Overwatch League Tokens before, or don't have enough for the Overwatch League skin you want to buy, you'll be prompted to select a Token bundle.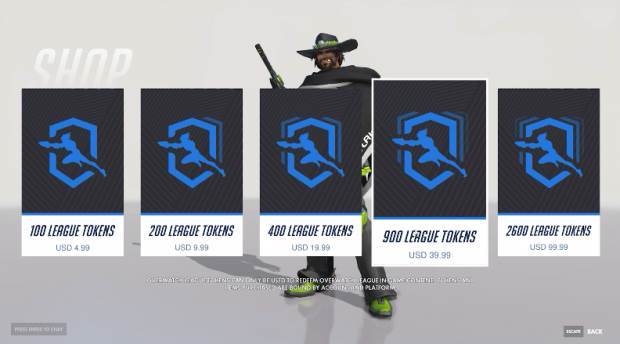 Overwatch League Tokens cost:
100 Tokens: $4.99
200 Tokens: $9.99
400 Tokens: $19.99
900 Tokens: $39.99
2,600 Tokens: $99.99
Once confirmed, your skin will be added to your character's wardrobe. Blizzard has said a proportion of the money made from Tokens will go to the teams selected and prices will vary in other regions.