This takes extreme to a whole new level.
When we first saw the water-cooled behemoth Asus now calls the GX700 during a visit to its HQ in Taipei last year, we were gobsmacked. It's huge, both in size, performance and ambition. It was the sort of thing that gets rolled out as an engineering study, and that rarely sees life as an actual product.
But, here it is. All $8,000-worth of outrageous gaming innovation.
Nothing is left to your desires with the GX700. There really isn't a single thing we can point to and say 'we want more'. The rear lump houses the water-cooling unit, and is meant to stay put at your gaming station, with the laptop operating independently away from home. It's important to differentiate this from other similar-appearing solutions we saw in the past year from Alienware and MSI. Those had the external device holding a discrete GPU. But the GX700 houses a desktop-grade Nvidia GTX 980 GPU.
When connected to the water cooling unit CPU overclocking of up to 48%, claims Asus. That equates to a jump from 3.2GHz to 4GHz for the Intel i7-6820HK CPU. On top of that, the RAM can be bumped up from 2133MHz to 2800MHz. We will certainly be putting that to the test when we get our hands on a review unit. It is a mighty achievement indeed, and immediately out-classes every other gaming 'laptop' available.
There's no point in focussing on the price, as indeed prospective purchasers won't be either, because there's been no corner-cutting in any way here. It's all Lamborghini-level luscious insanity. Besides the top-class CPU and GPU, the GX700 has a G-Sync screen – a 17.3in LED-backlit IPS job at a gaming-friendly Full HD resolution.
32GB of overclockable RAM is onboard. Just monstrous.
Storage is also beautifully insane, with a pair of 256GB NVMe PCIe SSDs in a RAID 0 array. We expect to see big numbers when we benchtest this, it's just so utterly wonderfully over the top, and again, hardware like this isn't cheap, further removing any questioning of the high price. You want the best, that really is irrefutably king of the mountain best? This is it.
A tip of the hat to Asus for going totally mental on this incredible machine. Not only is it specced to the bejesus, but the water-cooling just underlines what an immense engineering job this is. In a world of compromise it's nice to see that Hypercars can still exist in the PC gaming world.
The Asus ROG GX700 will be available from Harvey Norman, selected Asus Partners and ASUS E-Store for $7,999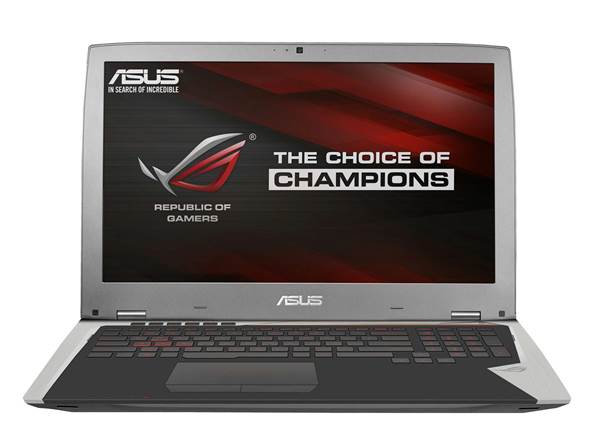 Processor

Intel® Core™ i7-6820HK Processor, overclockable up to 4.0GHz

Chipset

Mobile Intel® CM236

Operating system

Windows 10

Memory

32GB DDR4 2400, overclockable up to 2800MHz, upgradable to 64GB

Display

17.3in anti-glare LED-backlit Full HD (1920 x 1080) IPS display with NVIDIA G-SYNC

Graphics card

NVIDIA® GeForce® GTX 980 with 8GB GDDR5 VRAM

Storage

M.2 PCIe® x4 NVMe 256GB*2 RAID0

Camera

Built-in HD camera and array microphone

Docking

ROG Hydro Overclocking System

Power requirements

Notebook only – 180W
Notebook with ROG Hydro Overclocking System – 330W

Size

429(W) x 309(D) x 33 ~ 35 (H) mm

Weight

3.6kg (with an 8-cell battery); 4.8kg (The docking - ROG Hydro Overclocking System)