InFamous creator Sucker Punch's new game sounds fantastic, here's what you need to know
Ghost of Tsushima took everyone by surprise at this year's Paris Games Week. Unveiled during Sony's press conference, the Sucker Punch-produced open-world stealth title genuinely blew everyone away. So far there's been only a fleeting glimpse of gameplay, but it's the setting that's really managed to capture everyone's interest in what Sucker Punch has up its sleeve next.
On the surface, Ghost of Tsushima's tale of vengeance in the role of a samurai gone rogue seems similar to that of Tenchu. While Tenchu was focused on ninjas, the feudal-era stealth game is sorely missed and a return to such a setting is most welcome. But Ghost of Tsushima isn't simply a straightforward stealth romp like Tenchu, it appears to be a much bigger venture and one that's based on real Japanese history.
Sucker Punch is also an incredibly interesting developer to helm such a title. Nobody really knew what the studio had been working on after Infamous: First Light released on PS4, but their work of massive open-world action titles, along with the stellar Sly Cooper series of stealth platformers, lends itself perfectly to something of this scale.
But, before we go too deep on everything you need to know about Ghost of Tsushima, here's a look at the wonderful announcement trailer that dropped during Paris Games Week.
Ghost of Tsushima: Everything you need to know
Ghost of Tsushima release date: When's it out?
Currently Ghost of Tsushima doesn't have a release date listed but, seeing as it's just been announced, I'd be surprised to see it before the end of 2018. In fact, I'd suggest this won't be out until early 2019 – although I'm happy to be proved wrong.
Ghost of Tsushima story: When is it set, and what is it about?
Ghost of Tsushima takes place in the year 1274, during Japan's Kamakura period in the Age of the Samurai. Set on the island of Tsushima, located on the Japanese archipelago between mainland Japan and Korea, the main crux of the story revolves around the Mongol invasion of the island as Kublai Khan spreads his influence across Korea and towards Japan.
In history, the Mongol invasion is a decisive moment for early modern Japan. Not only did Japan manage to halt the Mongol army, it fought against all odds to do so. However, Tsushima, where Ghost of Tsushima takes place, was unequivocally a Mongol victory as Khan's forces rolled through the island with ease.
It's unclear exactly who you play as in Ghost of Tsushima, nor what your real motivation and aim is on fighting back the Mongol forces. You play as one of the last surviving samurai to fight back against the invading forces but have to adapt your honorable tactics to stealthy ones more befitting of your situation.
Basically, it's Sucker Punch putting its spin on real historical events around the Mongol invasion of Tsushima.
Ghost of Tsushima gameplay: How does it play?
Little is known about how Ghost of Tsushima will play beyond the fact that it's an open-world game. Presumably, it'll follow a similar structure to Sucker Punch's InFamous series, giving you almost entirely free reign of Tsushima island after you've managed to clear certain roadblocks during the story's progression. I'd imagine these would come in the form of clearing out an enemy encampment to clear a road to freedom or helping reclaim a village from the Mongol's grasp.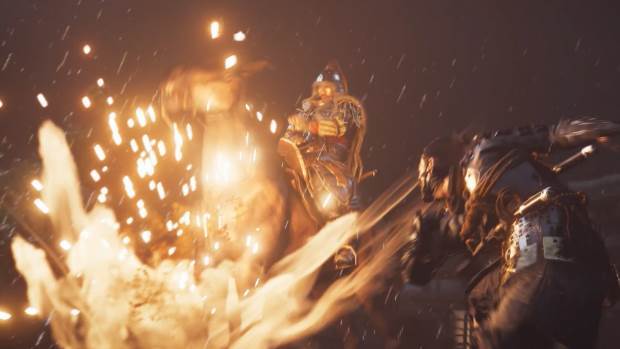 We've actually only seen a brief snippet of gameplay as part of the Ghost of Tsushima reveal trailer. It was only fleeting, but there was a clear bit of cinematic action involving a bomb, a horse-mounted warrior and the protagonist cutting them down to size. That was then followed by a high-drop stealth kill with a katana to the spine. Needless to say, both kills looked bloody – but also amazing.