The Pirate Bay have come out in support of Iran by temporarily renaming themselves 'The Persian Bay' with a forum for uncensored speech. Similarly, Google and Facebook are to launch Persian translations of their respective sites
Support for Iran is being kept alive by three of the world's largest web properties. And it's not just the constant Twittering that has Iranians and the rest of the world captivated online.

Search engine giant Google will be adding Persian translation to their Google translation site, while Facebook announced on their official blog that a native Persian version of Facebook is due to launch in Beta mode today.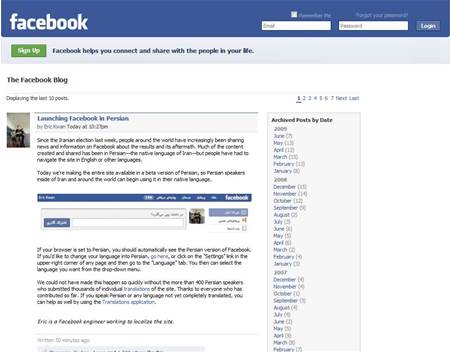 The Facebook Persian translation annoucement
Online support for Iran doesn't just stop at translation however.
The world's second largest BitTorrent website and arguably the most famous, has decided to temporarily change their name from The Pirate Bay to The Persian Bay. A banner on the site reads, 'Click here to help Iran'. But it's more just a simple name change.


The Persian Bay gives visitors a quick link to free speech forums
When visitors click on the pirate ship symbol, the site will give Iranians and others access to a uncensored web forum devoted to the cause of free speech. There are already over 700 threads and more than 6000 posts devoted to the present Iranian cause. the forum is making news, as Iran reportedly has extensive Internet censorship.
Currently, visitors to the Pirate Bay are greeted by the site's iconic pirate ship image, now adorned in a dark shade of green; the symbolic colour of the growing opposition movement in Iran.

Many protestors taking to the streets in Iran have worn green arm and head bands to show support for the opposition leader Mousavi.
Twitter feeds and messages, where much of the news from everyday Iranians has filtered through, have also expressed their solidarity for the opposition cause by showing messages in a shade of green.
When it comes to the issue of free spech, the Pirate Bay isn't shy about making a noise.

After the BitTorrent site was found guilty in an April court trial for assorted copyright infringements, the site accused the Swedish trial judge of being involved with pro-copyright groups.